– Anzeige / ad – Brands mentioned and linked –
BEFORE:
Hello loves, I hope you are well! After many months we are finally done with the bathroom and can show you the result! First you can see a photo of how the bathroom looked like before. It is a quite small bathroom, around 1,70cm x 1,70cm, so there is not so much you can do in there, but at least make it cozy! We didn't really like the white tiles so much, and thought the bathtub took a lot of space, so we decided to take it all out and do a complete make-over!
We started tearing down the tiles when we did the big teardown, but then we had professionals who did the pipes, built up the walls and concrete grounding, all things important to keep the bathroom safe to use and dry! We put up an extra wall to house the ventilator, toilet elements, pipes and hardware for the shower and also to make the boxes/shelves that we have built into the wall, as you can see below. On the other picture Klemens helped the guys to put a protective security layer for the wet areas.
Once the whole under-construction was done and the final tile glue/concrete layer was on the walls and floor, it was time for micro cement! You might remember we did microcement in our kitchen earlier this year which turned out super good, so now we did it again in the bathroom. We used Beton Vivet again and also the same color as in the kitchen, nr 60, which is perfectly light and is a beautiful shade of grey. Specially since our bathroom is so small and doesn't have much natural light, it was important to have a light color. The microcement was again a lot of fun to do and turned out exactly how we wanted it, in the upcoming days we will make a separate blogpost showing you step by step how we did it!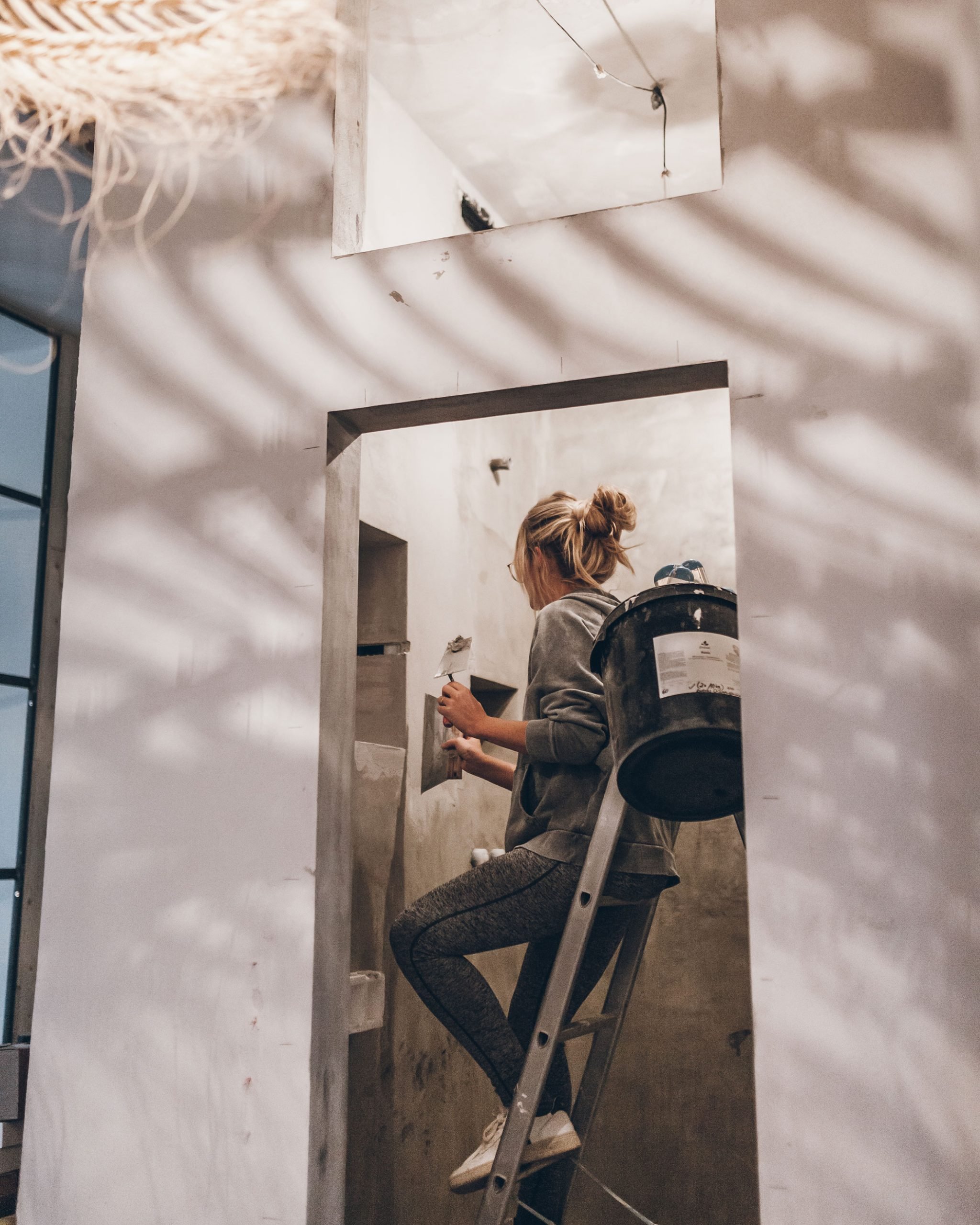 As soon as the microcement was dry and ready, it was time to build up everything, and make it a bathroom!
Ready to see the result?
Here it is – our cozy little bathroom! The doors for the bathroom are built by Klemens, it's from an old door that was in the apartment which he cut into two pieces and made into a double swing door. We had such a struggle figuring out what kind of door we were going to have, and since we have these old white doors and door frames in the rest of the apartment, this was the best solution and we're super happy with it.
Coming into the bathroom you find the sink table which we built from the same wood that we built the kitchen table, but the most beautiful is the sink and tap from Vallone! All our bathroom utilities are from Vallone and they have been laying here in the house waiting for almost a year to be put up, but now finally they are <3 They offer high class sinks, bathtubs, tabs and other bathroom utilities which are seamless and beautiful, giving the bathroom a cool and minimalistic look in premium quality. We absolutely love the round sink, made of their own developed Velvet stone, together with the black tap and handle from their Nero series, which we also have for the shower. A more detailed blogpost about the Vallone pieces will come!
Here we have the first box in the wall. We added a piece of oak wood as a shelf, where we have our towels and necessities. The bathroom is very new, so we haven't really "lived into" it yet, but right now it looks like this. We have bigger boxes under the sink where we keep most of our stuff, getting as much use of the little space as we can.
The towels are from Sea You Soon. We've been using their beach towels for years, on the beach, at home as deco, as blankets… but now they finally launched their interior CASA collection including towels, bathmats and robes. These are the Charcoal color and are super soft and cozy. 
Over the sink we have a square mirror with rounded edges, we got this from Made. On the ceiling we have a big date palm suspension lamp from Couleur Locale, which you can't see on the photos, only on our video below, but it gives a super cozy atmosphere light. But to have some real good light we put up three spotlights over the mirror. They are called Sqube from Wever & Ducré, they are very bright LED spots, which can turn and point the light and matches very well with the rest of the hardware in the bathroom.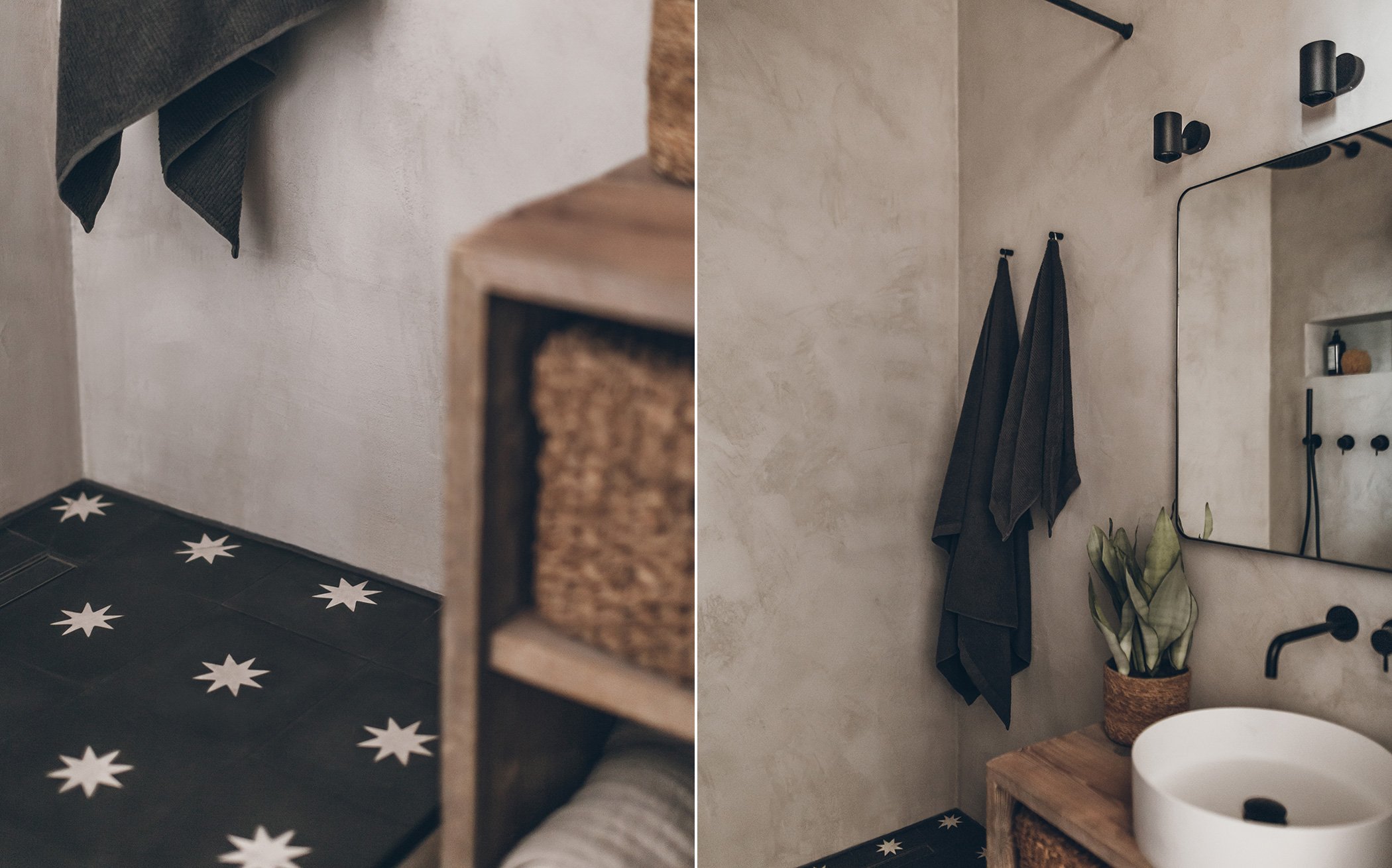 One of my favourite thing in the bathroom are the star tiles! I was searching around forever after some star tiles that I liked and finally found these on Mosaic factory, where you can also design your own tiles with your own design or using their different patterns, a lot of fun actually! My sister made the same star tiles but in yellow for her terrace on Mallorca <3 
Here we have the shower, and the second little box in the wall. In the beginning we were supposed to have a glass wall for the shower, but it's been hard to find one with our dimensions and even harder to find someone to make it, so for now we have a shower curtain, but we found a beautiful one in beige cotton with acrylic on the inside from Ferm living. We really like it now with the curtain because it gives some softness into the bathroom, also more space than if we would have a glass wall, so now we don't know if we will just keep it like this. I guess time will tell!
The rain shower, hand shower and handles are all from Vallone, also from their Nero series. 
Here you see the boxes we put under the sink, simple boxes from Granit where we keep our stuff and products :)
And that was all!
We are super happy with how the bathroom turned out, it was definitely the longest project so far in Casa cozy, specially since we started from scratch. But we had such amazing builders helping us and had a great and fun time building this!
Now there's not much left to do until we are done with the apartment! Yay!
Lots of love xx Mikuta + Klemens