– Anzeige / ad – Brands mentioned & linked –
Hello loves,I hope you're had a great weekend and midsummer in case you celebrate that :) We had some friends over for midsummer, which was super fun, but also perfect because then we had a deadline to make it nice and welcoming here at home. We've worked non-stop the last week on the balcony, we painted, sandpapered off the old oil cause it got too dark, hung up lamps, fixed in the kitchen etc etc. But most importantly –  we got plants! Like the one you see here on the pic, it's a fiddle-leaf fig (Ficus lyrata) which we think fits perfectly here. We wanted a big tree but weren't sure what we wanted, but after some thinking and looking around we decided to go for this one <3 Love it! We also got the concrete pot which is from Granit.
In the kitchen we put two plants, the small one is called Sansevieria trifasciata moonshine, and the big one is called Strelitzia reginae. Maybe they have a shorter and easier name… I don't know, I'm not very good with plants but I think these are not too hard to take care of :)
As you can see we put up wooden board over the kitchen, but this is not the final one, we just put something over for now, but tomorrow we're going to a place to look for wood, hopefully it's nice! Then we will put it on properly and you wont see the white brackets.
Our kitchen "back splash" is also done! We did stucco with Kalklitir in the color Palladio. I love it! <3 Will show you the result of the kitchen again when it's done with the final board etc etc.
Konrad came over one evening to help us paint and fix and he also put up the Bakelit outlets in the kitchen, yey! <3 Love them, we got them from Manufactum.
And now to Klemens favourites, these antique stools from Beijing <3 They are from Couleur Locale, the same place where we got our beautiful lamps and lanterns from which you can see on our previous blogpost, but here is the link for the stools if you like them. They are sooooo beautiful! They are all a little different, made of elm wood and perfect to move around in the apartment, we've used it as tables on the balcony, used them to sit on by the dinner table and will maybe have them by the bed later, not sure yet!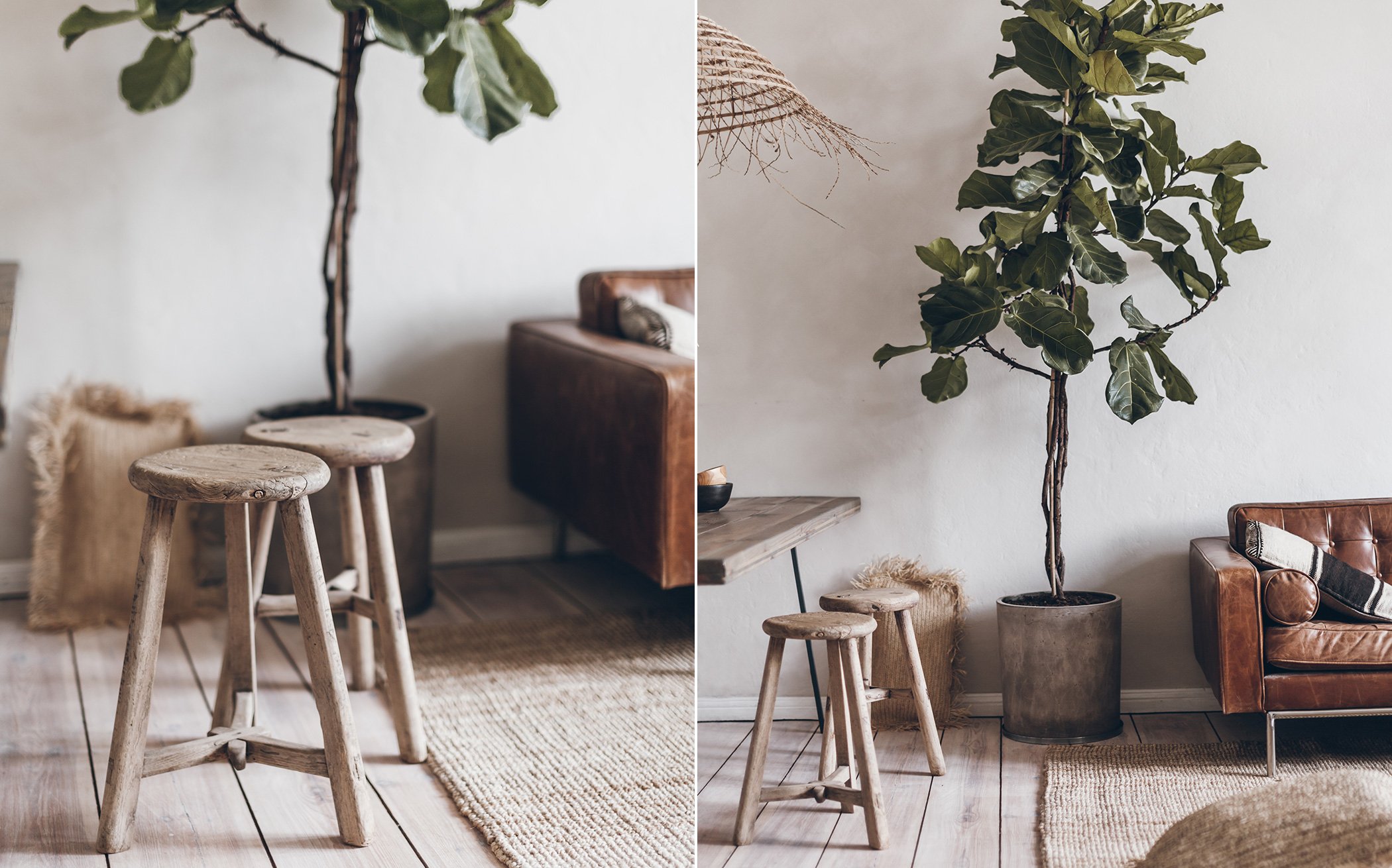 Pretty little stools <3
We also got some plants for the balcony, the same ones that I wrote about above. Happy to finally have some green in Casa cozy! The balcony is still not ready, we're searching for some place to make the pillows etc, but soon, and then I'll show you :)
Lots of love and happy Sunday! xx Mikuta + Klemens