Hello loves, it's time for the big Maldives post! During our Sri Lanka trip we were so close to Maldives, and since none of us have ever been we thought it would be the perfect opportunity to stop by. We looked around for places and found the newly opened Hurawalhi Maldives, an adult only luxury resort situated in the Lhaviyani Atoll and we were so excited to go!
We stayed for 4 nights and had a full schedule checking out the different areas of the resort, activities and had delicious food and enjoyed the clear blue water. We took so many photos so I will separate them into parts for a better understanding of what we were up to and what Hurawalhi has to offer. Don't forget to check out our video we did which you'll find at the end of the post or just click here!
We took the flight to Male from Colombo airport and when we arrived to Male airport we were warmly welcomed by one of the staff from Hurawalhi who took us by car to another part of the airport where they have their own Hurawalhi lounge where we enjoyed a drink and relaxed for a bit waiting for the sea plane departure. We haven't flown with a sea plane before either, so it was very exciting! Huwaralhi have their own sea planes which collects several passengers for their different resorts so we made 1 stop before we arrived to our island. The flight took about 40 minutes and during the ride we got to watch the beautiful scenery of the little below.
We landed in the water by the closest island just 10 minutes away so we directly jumped on a boat that took us to Hurawalhi where some of the staff welcomed us with music and smiles! We arrived quite late so we just checked out the island, relaxed in our room and later enjoyed their weekly GM's cocktail reception in their Coco bar where all guests are invited to join before dinner starts.
The second day we went for lunch at the Aquarium Restaurant, we picked a table just by the water and enjoyed some fruit smoothies while waiting for the food, here they specialise in fresh fish, teppanyaki and fun cocktails while watching the never ending sea view. We saw some small little sharks passing by, they are not dangerous at all, just very scared of us so it was tricky catching a picture of them, but they are so cute!
There are 90 villas in Hurawalhi and we tried out two of them, first the Beach Sunset Pool Villa which is situated on the beach with our own infinity pool and we also stayed in an Ocean Pool Villa which is situated over water, also with a private infinity pool. Both villas looked the same inside, big and spacious with the most comfortable double bed, a huge bathroom and what I loved the most, a big terrace with a sofa full of pillows and sun beds where we could enjoy the evenings or early mornings with our coffees before breakfast. Find their different villas here.
One morning we took a little boat out to the Dream Island which is a private island just beside Hurawalhi, it is completely empty full of white sand and surrounded by clear blue water as you can see on the photos, incredible! We brought some picnic and took the pillows that they have in a little bed-house and brought it out in the sand and created our own little picnic place. So romantic, that day we also celebrated one year of engagement, so it was extra special! <3 There are a lot of romantic things to do on the island such as weddings, honeymoons and private dinners, see more here.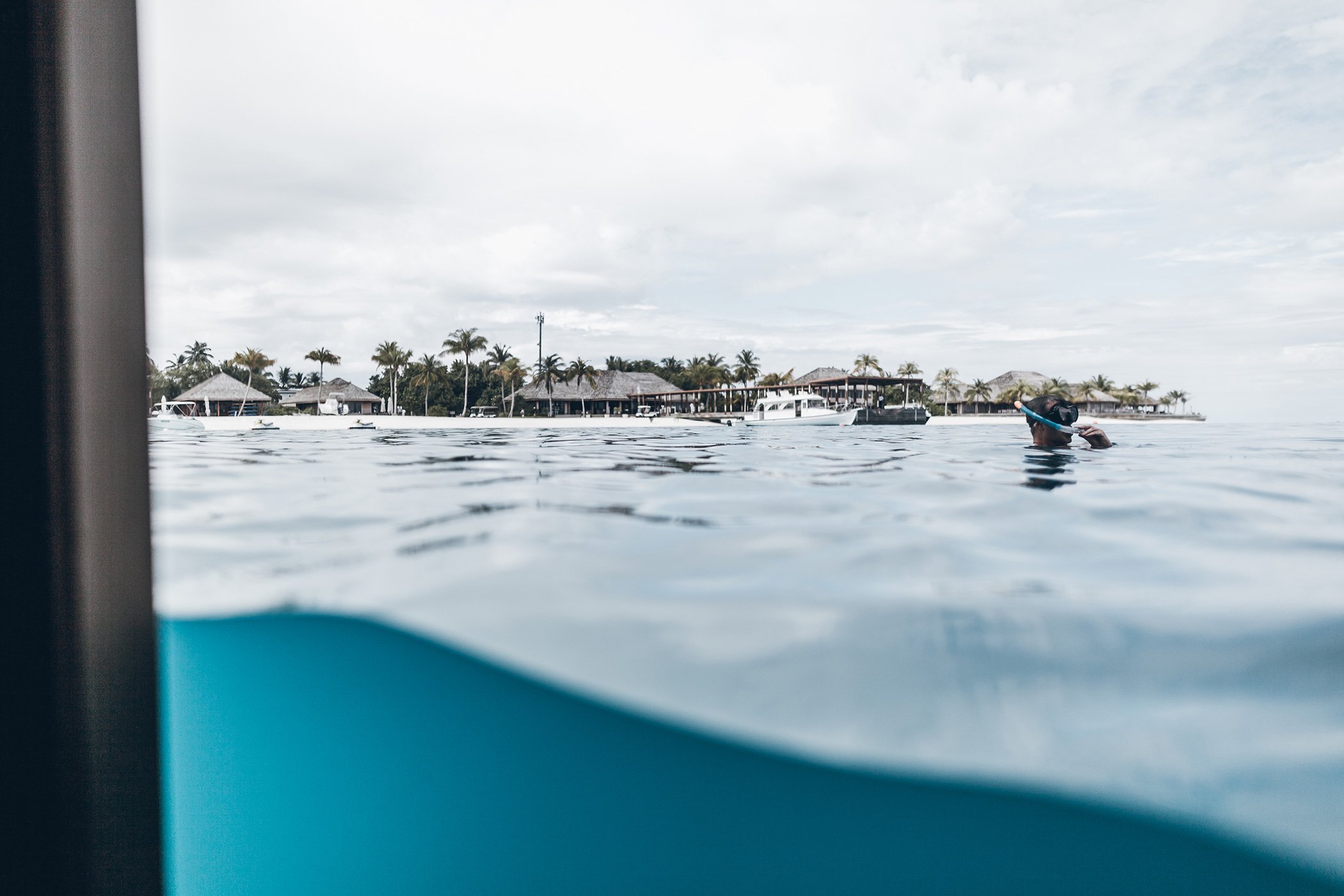 After the Dream Island we got ready for lunch at their incredible 5.8 Undersea Restaurant which like its name is located 5.8 metres below the water surface. It was a really cool experience to have lunch and watch all kind of beautiful fishes swimming by. They have one multi course menu which is served to everyone, every dish was a masterpiece and with it we tried out different wines for the perfect taste.
One of our favourite spots was the Coco Bar which is open 24 hours, it is situated just by the public infinity pool serving cold drinks and cocktails all day and night while chilling by the pool. Every evening they have a different event, different live bands or DJ's which makes Coco Bar so special and fun. I have to say that I don't think I've ever met such friendly staff ever, they are all so nice, remembers our names and even knows what we've been up to during the day, not only in the Coco Bar but everywhere on the resort! Loved it!
Apart from snorkelling and visiting the Dream Island we had some other activities such as a sunset dolphin watch and snorkelling with turtles. The sunset dolphin watch was really romantic, we went out in the afternoon when the sun started going down, got served a drink on board and went out for a dolphin search, we saw a lot of them, they are so beautiful and peaceful jumping around in the sea! We didn't go too close to them and once we saw enough we went back home to not annoy them, but seeing them for a while during sunset was one of the most romantic moments!
Snorkelling with turtles was another story, not as romantic but definitely more fun! We went out with a boat together with their marine biologist where she explained a bit about the turtles and how to behave before we put on our feet and snorkels and jumped into the water. We saw so many turtles everywhere and floated around on the surfaces enjoying our view until we got tired and went back to the island. Apart from these activities they also offer scuba diving, their spa for treatments, water sports, gym, their marine biology centre and more, read about their activities here.
Let's dig into the Canneli Restaurant which was something I looked forward to every day, it's a buffet restaurant with live cooking stations and the offer of food is incredible! I'm not exaggerating when I say it was maybe the some of the best food I've had, every little piece was delicious and the dessert was even better. They have everything from fresh sushi, seafood, meat, fresh pasta, asian food, etc etc. They also have special nights where they put Indian inspired dishes or from any other country which makes it fun and versatile. My favourite was definitely the fresh shrimps, the sushi and the crazy peanut butter mousse. The Canneli Restaurant is open for breakfast, lunch and dinner and I'm still dreaming about their food!
Our last night at Hurawalhi we spent at the Champagne Pavilion watching the sunset. We got a table just by the edge, cuddled up in the chairs and got served champagne and some snacks. The Champagne Pavilion is a much smaller area than the other ones and feels very private and intimate, it's very cozy and perfect to end the day or just having a romantic date. We were the last ones to leave, talked about everything and nothing and enjoyed every moment of it watching out for dolphins and mantra rays!
After 5 amazing days full of activities, good food and relaxation it was sadly time for us to leave, although we had only been there for some days we felt so sad to leave and say good by to all the lovely people we met, they all made us feel so welcome and at home, it was so peaceful and beautiful, like a separate little world. When you see photos of Maldives you think its beautiful, but you cant imagine how beautiful it really is, the clear water and the blue skies don't do justice on how clear it really is, it is truly a paradise in the world and leaving the island was hard, waving good bye to the staff but thinking one day we will be back! <3
In friendly collaboration with Hurawalhi Maldives.