Hello loves! Finally I got some time to sit down and go through my thousands of photos from our Vietnam trip. In the end of September I met up with my mum in Berlin and we took the flight to visit my sister who is living in Ho Chi Minh with her boyfriend since half a year. Since we were little kids we have always made big family trips, and we try to keep them coming! Last year we went to New York and this time we wanted something more "dirty" and what could be better than discovering Vietnam, also since my sister was already there it was the perfect plan. 
After many hours of flying and watching movies we finally arrived to Ho Chi Minh where my sister and her boyfriend Pablo picked us up, I was so so happy to see her and started crying of happiness and because I had missed her so much, after we all cried and hugged for a while we jumped into a taxi and drove through the crazy city. First night we drove on their scooters to have some Vietnamese street food and some drinks before going to bed. Next days we just spent walking around getting to know her favourite places. But before starting our trip up north we felt like having some international breakfast before we had to live of rice :P 
Angie (my sister) had already told me about the crazy scooters and that the traffic is insane, but I never imagined it would be this crazy! There are millions of scooters, driven alone or with the whole family, they drive all over, however they want and scariest of all, they don't stop when you try to cross the street. You have to just be strong, walk right out on the street and stretch your arms out to show them that you're there. It was pretty scary in the beginning but we learnt with time.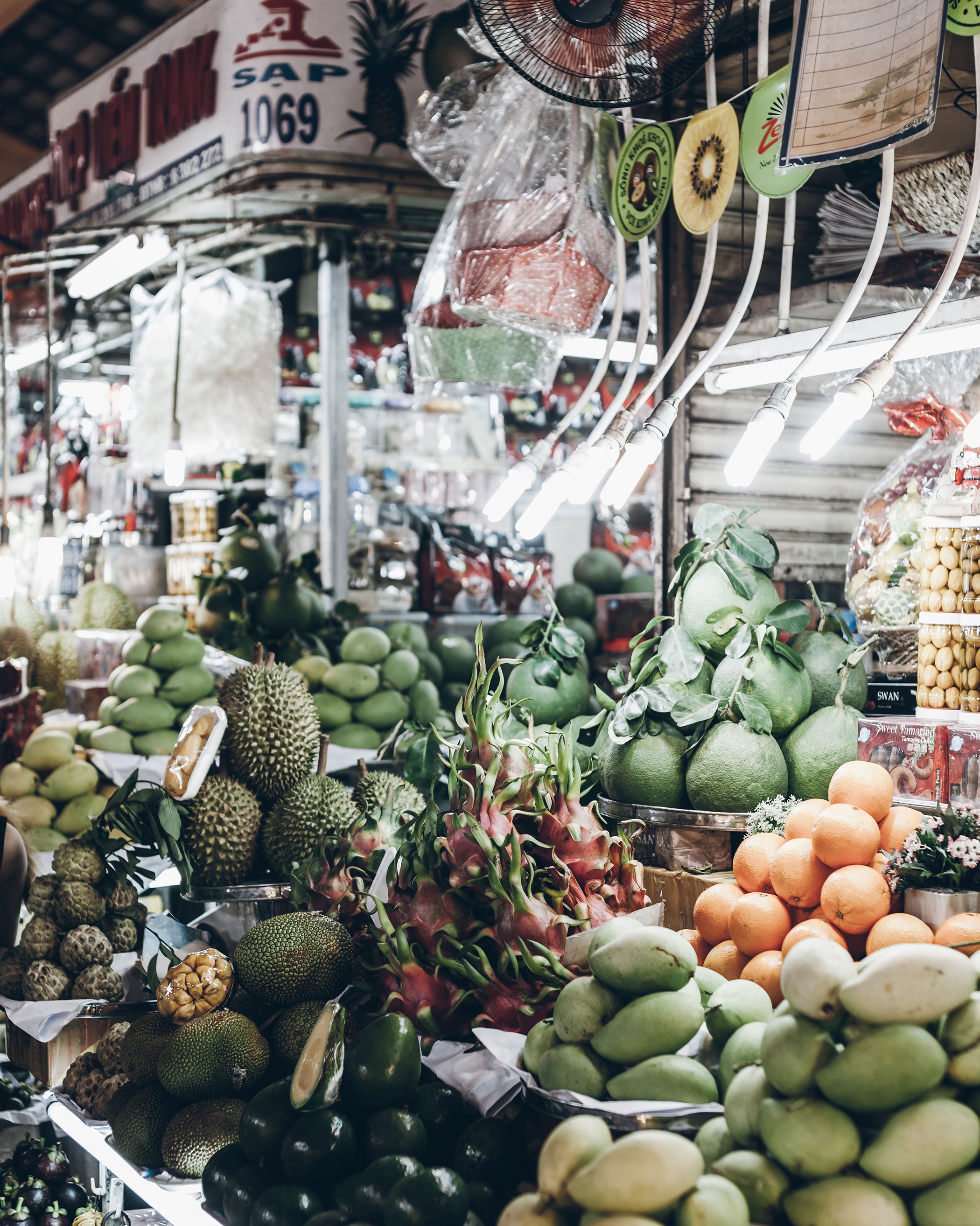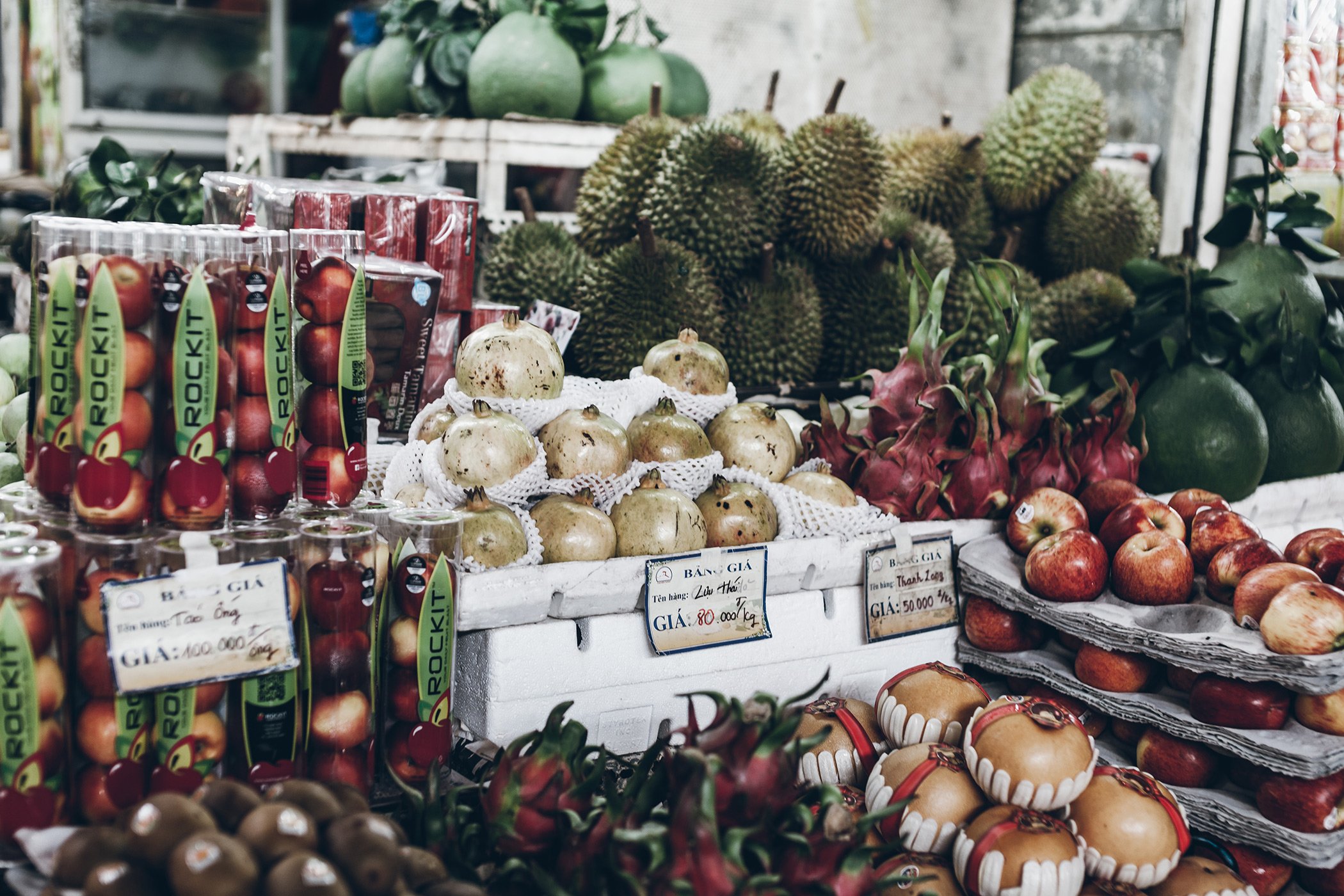 We checked out some different markets, looked at fabrics and got interviewed by multiple school kids who were very excited to have pictures with us, haha! The amount of fruits is incredible, and while all the exotic fruits which are hard to find here are super cheap, normal apples are really expensive there. One fruit that they sell everywhere is Durian (the big and spiky one on the photos), it smells so so bad, whenever we passed it on the streets we had to hold our noses to not feel sick, haha! I can't imagine how anyone could eat it, but maybe it's good, I never tried.
We were there during the rain season which means it was raining half of the days, first it was sunny in the mornings and then boom – suddenly it poured down! We bought plastic bags in different colours which we put on and hid under the roofs. The scooters didn't mind though, neither did the taxi driver while the water entered the car while driving us to the translation. The water was literally flooding, maybe 20 cm high. I'm so impressed by them living like this every rain season. 
After 2 of having fun and being amazed by Ho Chi Minh we took the night train up to Nha Trang. The train left in the evening and took us 8 hours to arrive. Somehow we got mixed tickets so we couldn't sleep in the same little room, so my sister and I shared room with two vietnamese women. But before sleeping my mum joined us for a little pic-nic on top of the beds :P That night was one of my hardest nights ever, it sounded like I was in the middle of a heavy steel factory, and as soon as the sun came up the two women woke up, got dressed and started talking, calling and having fun, so no sleep at all! But it was really cozy anyways, such a great experience!
In the morning we arrived to Nha Trang and walked around trying to find a place to sleep. First we went from Hostel to hostel but my sister is using a great app which gives better prices than normally, so we found a cozy little room pretty fast! First thing we did was to change to bikini and go to the beach, Nha Trang isn't really a beautiful place, quite touristy and the beach is not the best, but we heard about a beach called Bai Dai where we took a taxi. (Taxis are very cheap in Vietnam, just be sure to take the green ones of the white) The beach was completely empty with little beach bars/restaurants everywhere. We enjoyed rice, shrimps and beers and took some time to lay down and read or walking along the beach. So relaxing!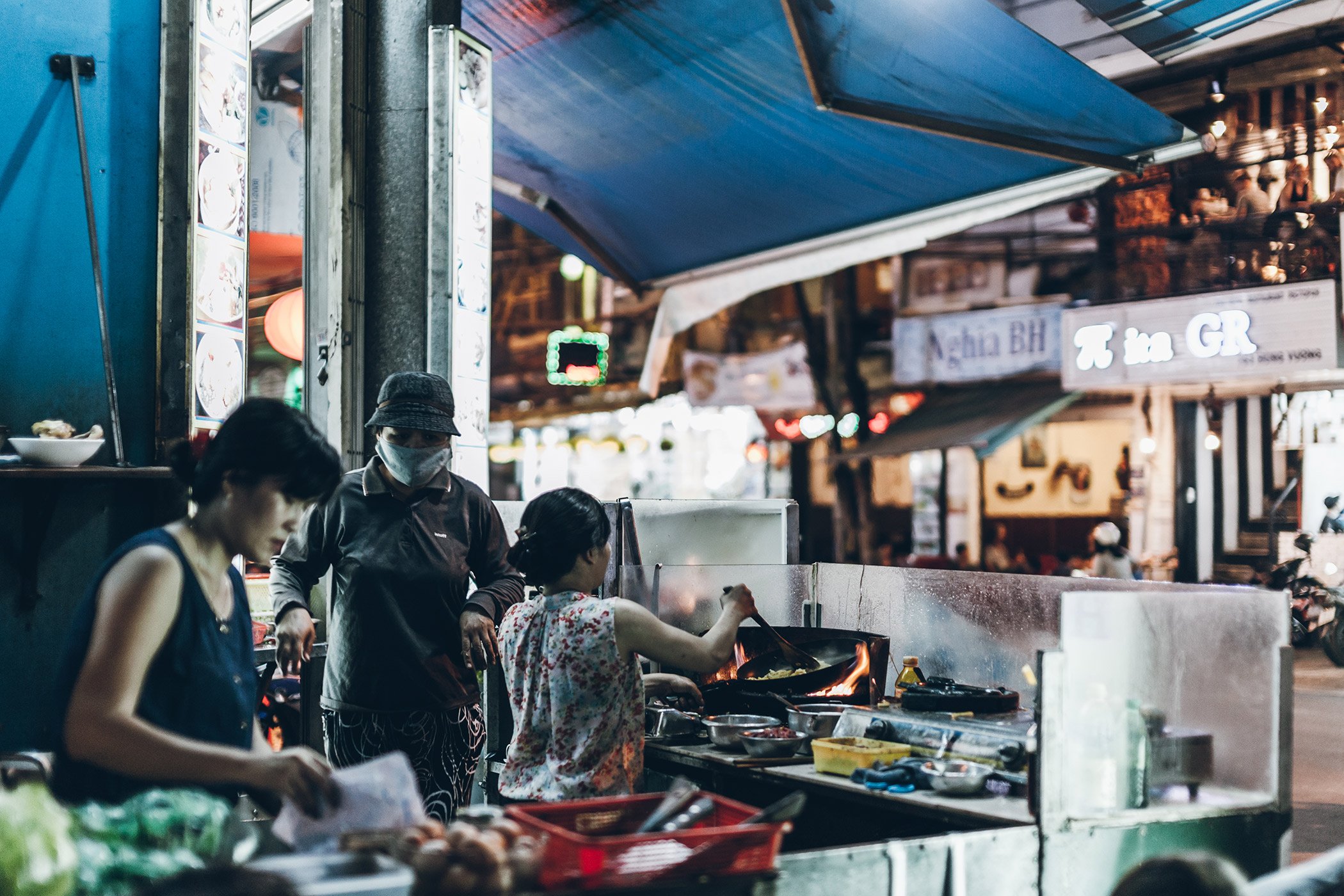 We found this cozy place in the evening where we had some more really nice food. We had no idea this was going to be almost the last good meal we had. I love how everyone is so happy all the time!
The next day we spent the day on the Nha Trang beach because we were already going to leave to another place quite early. Look how cute this little woman is who sold us corn! Vietnam is how Thailand was 20 years ago, much less tourists, cheaper, they still sell food and drinks on the beach and its just much more "untouched".
That same evening we jumped on a night bus which would take us to our next town. I was really excited about the night bus, it sound really cozy with beds on a bus, but to be honest, this night was anything else but cozy! First we had the bus drivers yelling at everyone, specially me for insisting on keeping my backpack in the bus (camera, computer, etc etc), the beds were so small we couldn't keep our legs straight and we were driving through the mountains which was really bouncy and scary. Afterwards I heard that one of these busses actually fell down! Oh and we didn't have any lights on, even if we left at 8pm already, so no reading no nothing :P In the middle of the night when people finally fell asleep the driver stopped at some weird little place where we could use the bathroom, shop or eat. It was really fun, with people wide awake, super loud Mariah Carey music and cockroaches in the bathroom. I did get to use the bathroom though, you have no idea of my cockroach fobia, haha! In this place we stayed for around an hour, stretching our legs, dancing to the beats and eating cakes while my sister was full asleep in the bus and missed the whole thing! After all the night actually ended up being quite cozy!
Where we went next you will see in part 2 :)