After one week in El Nido it was finally time to move to the next island – Siquijor! I had read about a little camping place where you sleep in tents on the beach and I really wanted to visit! Also Siquijor is quite small and there's not as many tourists as in El Nido so it was very exciting.
The trip from El Nido to Siquijor was incredibly long, it was hard to get directly to Siquijor because there are not so many ferries going over, so we had to go to Bohol first. The trip from El Nido to Bohol took us 15 hours! YES, 15 hours!!! We could have gone back to Berlin in that time. We first took a van from El Nido to Puerto Princesa where we took a flight to Cebu, in Cebu we took a taxi for 1 hour to the ferry and the ferry took 2 hours to go to Bohol.  In Bohol we stayed on Alona beach which I don't really recommend, it was full of tourists and not that cozy. Somehow we had calculated everything wrong, we had booked 2 nights in Bohol because we thought we could go and visit the Chocolate Hills the second day but we were way too tired from the long trip and we would have to drive another 4 hours to see the hills and 4 hours back, so we just chilled in Alona beach the second day. The night before we were finally leaving to Siquijor we realized that we had booked the ferry and the tents 2 days later, so we had to get another ferry ticket and book somewhere else to stay the first night in Siquijor. We were freaking out about the ferry because if you've read our El Nido post we had a lot of trouble with the ferries because everything was booked out. But we took the chance and went to the ferry the morning after at 7am to get a place on the ferry at 10 and we did! :) Anyways, this was a long intro for this post but it's important to know how important it is to plan your trip in detail if you're going to the Philippines in the future. Now let's see some pictures from Siquijor and what we were up to!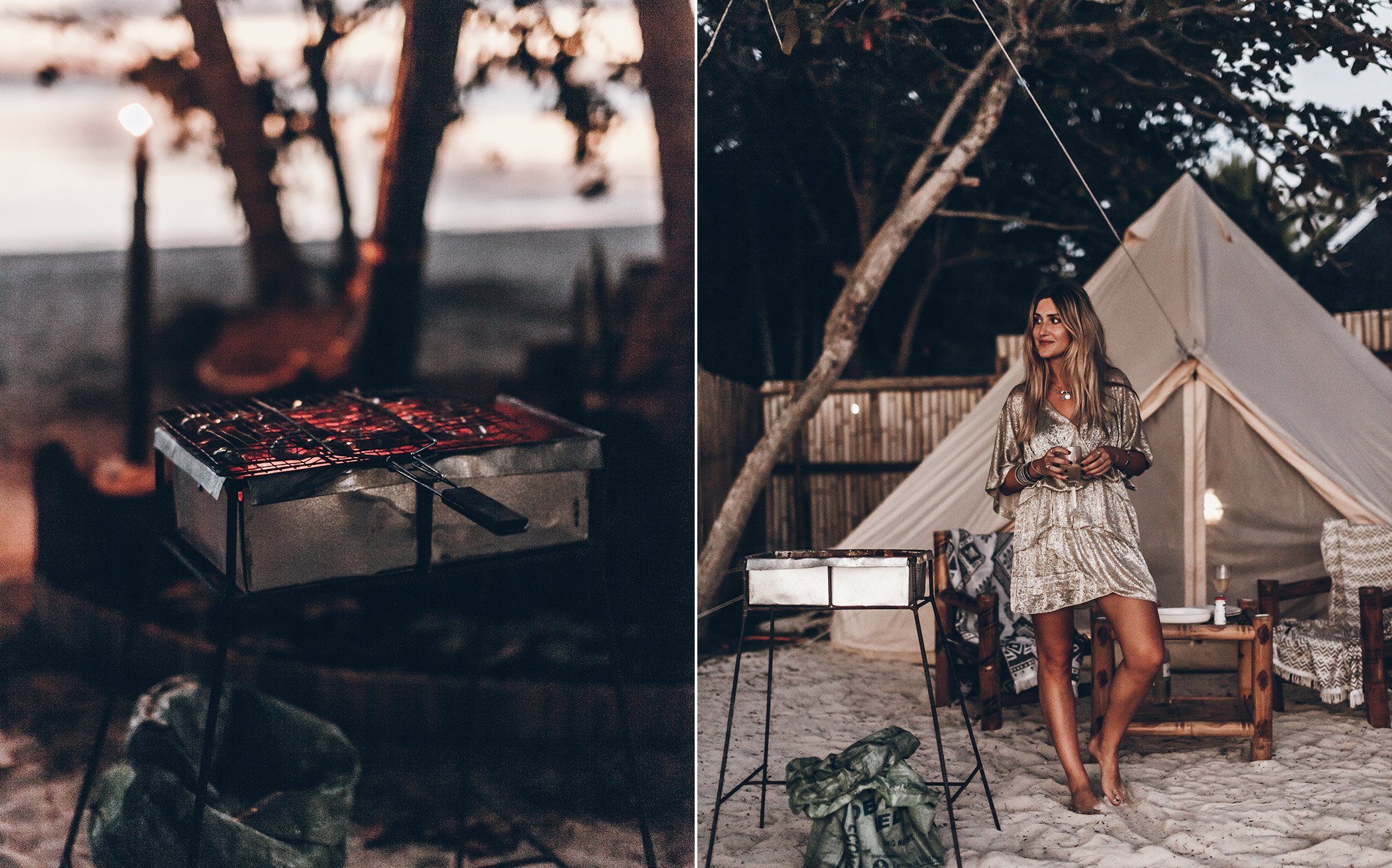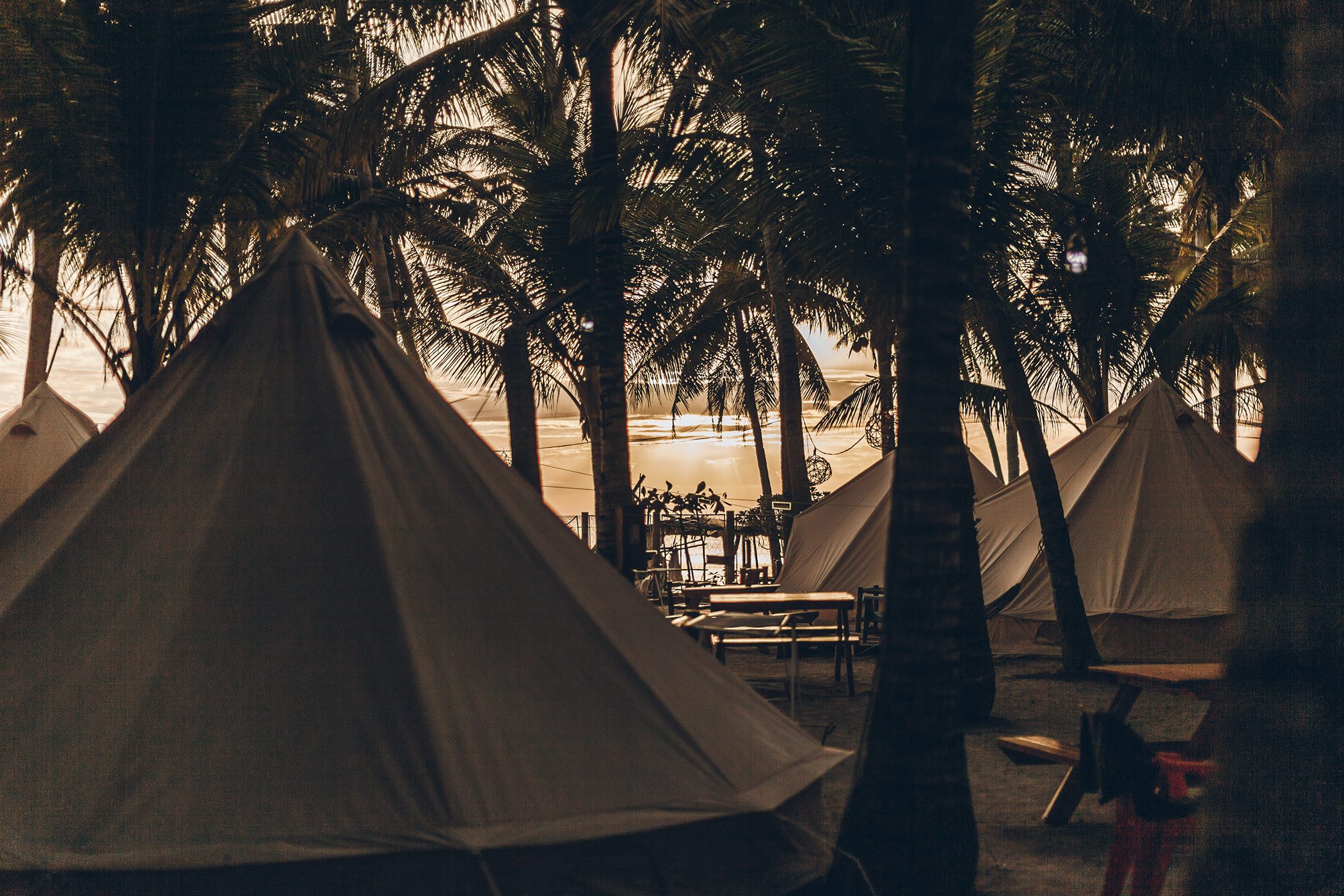 So finally we were in Siquijor! As soon as we arrived with the ferry which took around 1 hour, we jumped on a tricycle which took us to the San Juan beach where we were staying. We were amazed by how colourful the island was, so much green nature, colourful houses such as yellow, blue, orange, and clean streets. The first night we stayed in a newly opened hostel called Sand 1, I really recommend this place, it's only 19 euros per night and the rooms are very nice and modern, a bit boho style! The first day we got a scooter from the guesthouse which we rented for our whole stay on the island and checked out the area, went to the beach and just enjoyed being there.
The second day we went to the Cambugahay falls, we took the scooter at 7am to arrive as early as possible to avoid the tourists, it took about 40 minutes to drive there, but the view was amazing so time passes fast. We were at the waterfalls just before 8am and could enjoy it almost alone. The Cambugahay falls consist of different natural pools that are placed in a row, the water falls from one pool to the next one. When it's sunny the water is super blue and you can jump from different platforms, swing on a rope down to the water or chill on bamboo decks. On the top pool there was a lady selling grilled bananas which were absolutely amazing! Have you tried grilled bananas before? I've only tried it in foil paper, but these ones were grilled directly on the fire and rolled in sugar, so they were a little crunchy on the outside, very yum! At 10am the tourists started rolling in and it was time for us to leave.
Now was the time to finally move into our long awaited tent! It was just up the road so it was easy to bring our bags. The tents are called Glamping Siquijor and we had booked the Deluxe suite with sea view, this was actually the only one they had available when we booked but it was perfect! It was just in front of the beach and we had our own private entrance. All the other tents that have sea view also have their private entrance and terrace but there is a little fence around. Ours was a bit more private and it was so cozy <3 We just stayed there the rest of the days, reading our books in the hammock, chilling in the sun and enjoying our tent. The best thing is that you have your own little bbq and table and everything, so one evening we bought some shrimps from a local shop on the road which we later grilled on the beach, it was really romantic :)
The tent's are very clean, they have a fan but in the evenings it gets a bit chilly so you don't need it. They have shared bathrooms with showers which are very nice and clean, we were really impressed. Also there is an open area where you can get your dishes and everything you need, plus free coffee ;) You can guess who was there getting coffee all the time…Mr. White.
Just up the road is a very nice restaurant/bar called Monkey business. They serve very good food, Philippine/Thai/Western, amazing smoothies/juices and every evening at 7pm they have a live band playing. Don't miss it if you go, but you probably wont, Siquijor is very small :)
We spent 5 days in total on the island and loved it. The tent was a big highlight of the trip and I'm so happy we went!
Next stop was Siargao…but with some other stops in between…you know it takes forever to go from one place to another :P
Lots of love xx Mikuta + Klemens
Check out our vlogs from Siquijor! (Vertical videos made for mobile, watch on full-screen)