– Anzeige/ad – Brands tagged & mentioned –
Hello loves, it's time for a little Casa cozy update! We haven't done so much since the last update, but finally things are starting to loosen up and things are starting to happen again :) The other day I realised that we signed for this apartment more than a year ago, time passes so fast! But we didn't get the keys until June last year, so it feels good, we still have a month until it's been a year. And until then we might have some more stuff done ;P
The last days Klemens has been building his bar table for his stools that we showed you on the previous blogpost. We still have to oil it, but then it's done! It's just a little table for multi-use and specially for Klemens' morning coffee & work which he's so excited about, haha. 
In the previous blogpost I also wrote about our tile experience, of how we decided to take them down because we didn't like the look and it didn't work with all the different materials. Instead we decided to do the stucco all the way with Kalklitir.
You can read more details about how to mix and apply the stucco on an older blogpost we made when we did the big kitchen wall! But it's basically less water in the mix, so that the liquid gets thicker and you can apply it with a spatula.
Since we will cook and use this kitchen we will cover it with layers of varnish and hardener, so the wall is protected from food stains and water. The color of the wall get's a little darker with the varnish we heard, but we'll show you pictures of the result once it's finished :) I'm very happy about the decision, it already looks so much better and more what we wanted to go for <3
Now some small updates about new details in Casa cozy! Here we have little wire covers for the lamps…I don't know the name, but the ones you put up in the roof to cover the wire connectors. We've been discussing these so much these days, it's just a small detail but we learnt from the tile situation to think more than twice about every decision we make now, haha! Anyhow, we really like these and we'll see how it looks when they are up!
Here we have our cutting boards! I fell in love with these a while ago and had to get them for the kitchen. They are from Madame Stoltz who I recently discovered and who has so many beautiful decoration pieces <3 I love these cutting boards and the whole kitchen in general, it's been so fun to cook here the last weeks, such a big difference from our old kitchen which was the tiniest! 
The star tiles I've already showed on Instagram but they deserve to be included here as well. I'm just so happy and in love with these tiles which we'll have on the shower floor in the bathroom. I found similar last year from a place in the UK, but it was really hard to get them and the price + shipping was insane, so then I searched and searched for months for other black star tiles without any success. We even considered going to Klemens mum's friend to make them ourselves until recently when I found a place in Spain who make them! Now they are finally ours <3 They are from Mosaic factory fyi :)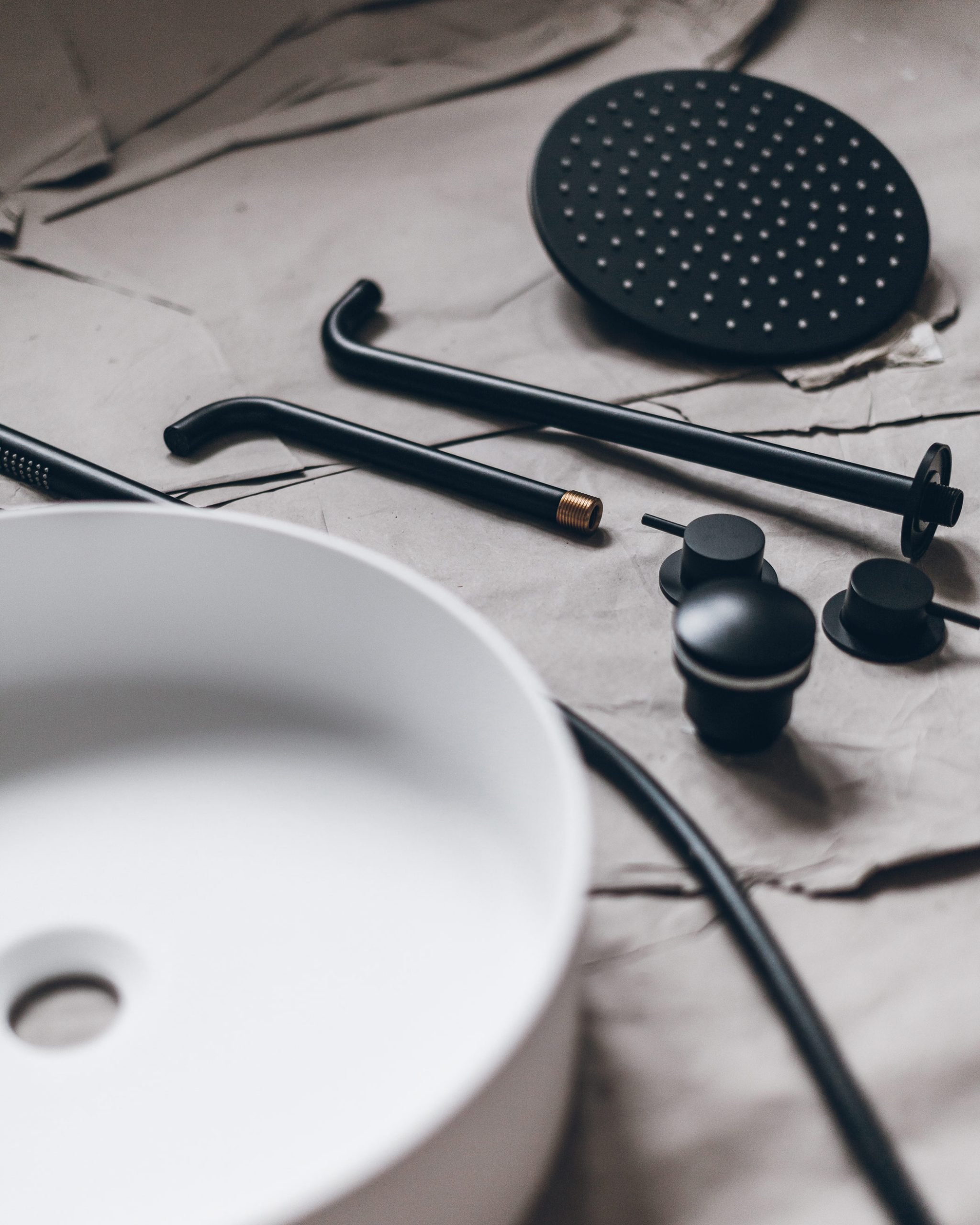 And lastly we have our beautiful bathroom equipment from Vallone! These guys have been laying around here for so long now waiting to be up, and so have we. Since the bathroom is tricky work and needs to be done by professionals it has been taking forever, first for them to be available and also because of the quarantine, but finally it's loosening up now and they can work again. So next big thing is the bathroom, wohoo!
This is how the bathroom looks now. It is very small, 1,80m x 1,70m, but I think it will be very nice and cozy. It will have a similar look as the kitchen with the micro cement and wood. I'll show you more about the whole bathroom situation, plan and progress in the upcoming posts!
We also didn't forget about our videos, so here is a new one!
Lots of love xx Mikuta + Klemens