– Anzeige/ad – Brands mentioned & linked –
Hello loves! It's been a while since a Casa cozy update, but that doesn't mean we haven't been working on it. It's going rather slow at the moment, because we are waiting for things to be done and also still searching for wood. We got some test samples the other day which we didn't like so now we're on the hunt again, but luckily one of the builders has some wood that he will bring so we can check. I don't know if we are super picky or if it's always this hard with wood? Anyways, there's no super hurry.
So here comes some pics with the latest updates. Here on top is the outside of the bathroom, the builders have installed all the pipes under the walls and made some shelves etc etc. Now we are just waiting for tile glue to be covered everywhere, and then Klemens and I will do the micro cement :) After we did the kitchen we said that we didn't want to do the bathroom work, but now it's been long since the kitchen and we're in "building" mode again :)
The door opening is bigger for the bathroom, we highbred it quite a bit so it matches the other doors, and one of the guys will make a double door out of an old door that we had laying around here. We'll see how it will be, but I think it will be good. The window has also become smaller on top, same size as the door, we had so many cables etc etc and it was just a lot of work to fix it, so we decided to just make it smaller. Which looks good too :) Most important is to get in some light and make the bathroom feel more spacious.
Here you can see how it looks like now. The shower is on a platform because we had all the tubes under there too, in the beginning we were a bit unsure about it, but now we really like it. I already put up the tiles for fun to see how it will look like, can't wait. The tiles will be cut so we have 4 stars in a row. A shower wall will also be installed ofc :) So this means there's not so much left to do in there!
Another thing Klemens has been working on is hiding the cables in the roof! We had white cables hanging everywhere and first we were going to have black cables hanging, but then we tried it and it looked like a jungle, then we thought of having jute cables but thought maybe it would be too dusty…then we thought of having white cables tight in between and black cables hanging… but then we just decided to do it the hard way instead, meaning open up the roof and re-wire! It was definitely worth it, a little dusty, but now we're super happy with the result <3 
Maybe you saw on my IG stories that we have some new beautiful decoration here at Casa cozy, and if not, here are some of them. This beautiful suspension from Tunisia is made of date-palm and we put it over the dining table <3 This is the 110 cm diameter. It's from Couleur locale, a concept store from Belgium but they also have an online store. Incredible and unique pieces found by them from their travels around the world!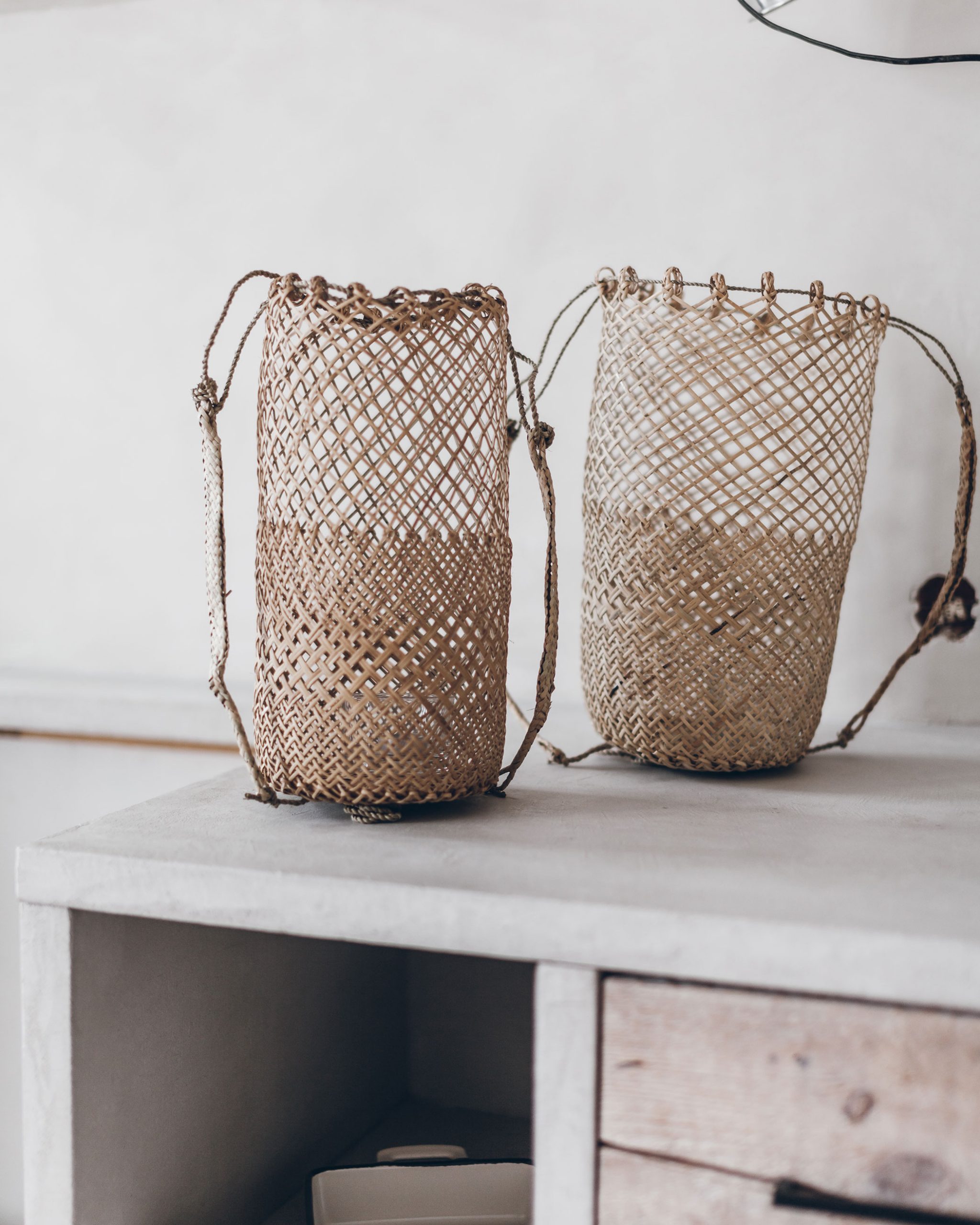 These candle holders are also from Couleur locale, they are from Borneo and you can either hang them or have them standing. There's a little glass inside to place the candle. I will show you where we put all these things at a later time when the apartment is more done, right now it's a bit of a mess, haha.
This wool pillow is from Morocco and so so beautiful, all pieces from Couleur locale are handmade from artisans from around the world, all made with love and with their own story. 
Lastly we have this seagrass suspension, also from Tunisia, this is the XL size and will be hanging in the hallway I think <3 
The last weeks I've been working on the kitchen wall. As I mentioned before we decided to do Stucco with Kalklitir and later seal it with sealer and hardener so it's water resistant etc etc. This took some days because it has to dry for a long time, but it was so worth it. I love the result and the look! This is colour Palladio. Will show you the result once we get the wooden boards and when it's more finished. Also our oven broke, so it's gone for some days for reparation.
And the latest project of Klemens is to fix some windows that are a bit old and destroyed. There's always something to fix at Casa Cozy!
Lots of love xx Mikuta + Klemens