Hello loves, I hope you've had a great weekend! We took some time off this weekend celebrating my birthday which was so much fun and then trying to finish this post about our trip to Mexico. It's been more than a month already!
We were there for two weeks, we flew with Jet Air fly via Brussels and it was actually really nice, and fair price! We got the new Dreamliner plane which Klemens was super excited about, and yes, it was great, the windows were really big and the ceiling really high, very comfortable and nice screens for movies ;) So we flew straight to Cancun where we took the ADO bus for around 8 euros per person to Playa del Carmen, it only took us 1 hour to get there. It was really warm and we were dragging our suitcases for around 30 minutes to get to our hotel La Semilla but we were so so happy to finally be there and start our trip!
Since our other trip-guides were so appreciated we decided to make one with our favourite places and tips from Playa del Carmen and Tulum, so here we go! First up with Playa del Carmen: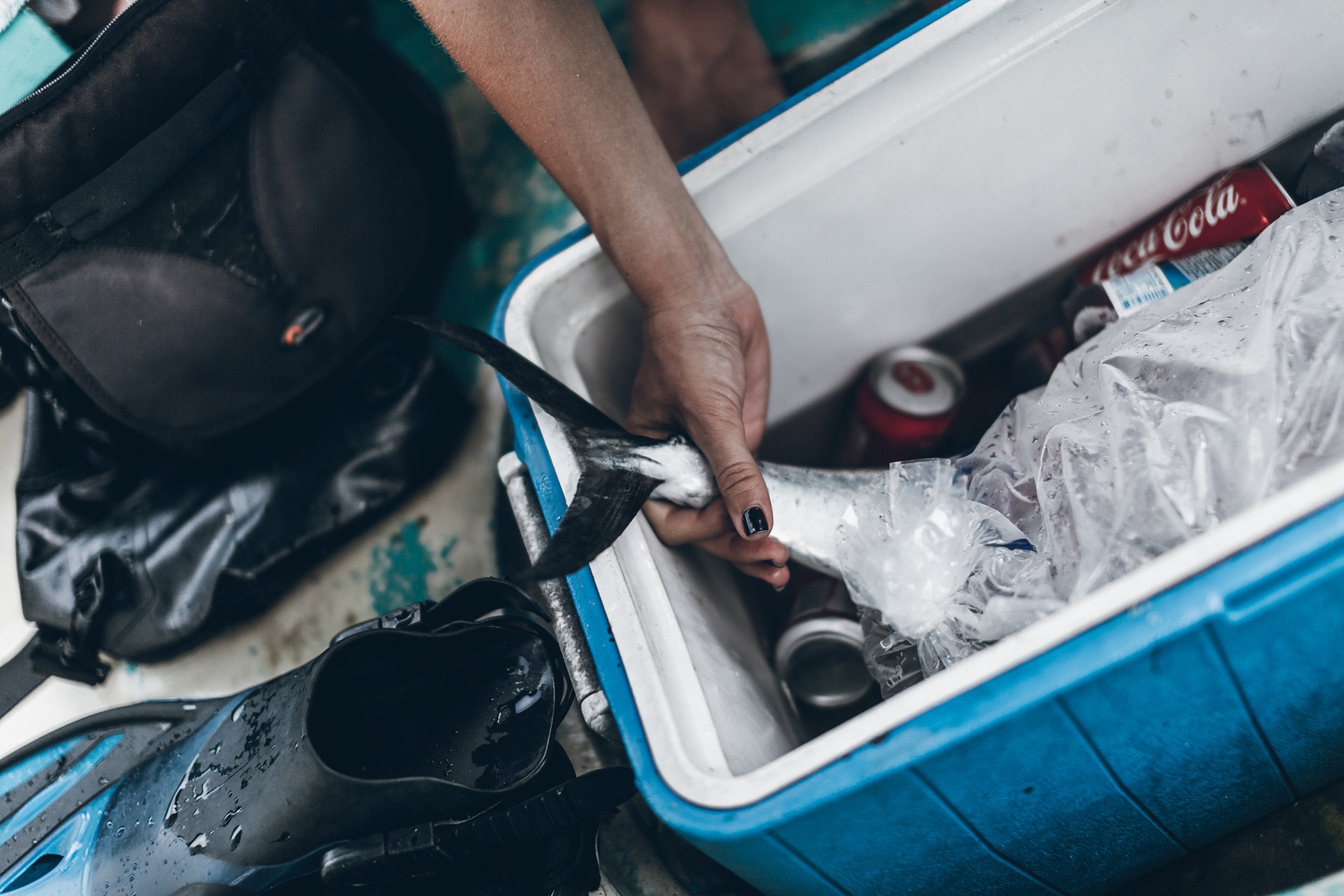 SPEARFISHING & CANIBAL ROYAL
This was definitely one of the highlights of our trip! We surprised an old friend of mine from Barcelona who is from Mexico and now has a shop in Playa del Carmen (its called Biuriful and has amazing stuff btw) and she invited us to come fishing and snorkling with her and her boyfriend the next day. Of course we wanted to join and so we did! I was sure we were going fishing with a rod like normally and snorkelling close to shore, but instead we went real far out, it started raining and they told us we were spear fishing and free diving! :O They all put on their wetsuits and got ready to dive in, Klemens as well, not me, I was perfectly fine up on the boat with the Captain watching the crazy free divers. It was really amazing though, they could dive down to 13 metres (normally more but it wasn't deep enough) where they stayed for several minutes catching fishes for our lunch, including Klemens :) Really cool!
After they caught enough fishes we went back to the beach and went to my friends boyfriends restaurant/beach club Canibal Royal an amazing place as you can see on the photos, and they cooked the fish and made really tasty dishes! Wow! It was really an amazing day, thanks Alejandra and Alejandro <3
AKUMAL AND SWIMMING WITH TURTLES
Before going to Mexico I did some research and found out we could swim with turtles so of course we had to check it out! This is a beach area called Akumal where the turtles live free and it is full of guards making sure nobody disturbs the turtles or touches them. So I think they are happy :)
We took a Colectivo van to Akumal from Playa del Carmen. It is a little van that goes from the station and picks up people on the way on the street and leaves them wherever they want to go off. You pay when you go off, or whenever you want I guess, but it is always fair! Ask before you go on just to be sure, but it is probably one of the cheapest way to travel from place to place, all the locals do it. It is also a really fun experience :)
When we arrived to Akumal we had to cross the street on this white bridge and later follow a little street down to the beach. As soon as we got on the beach there were lots of guys who told us that we are not allowed to go into the water without a guide and that we had to pay 5o euros for two hours in the water with the guard who would also take underwater pictures. We were a bit sceptical and continued down the beach where we realised it was all bullsh*t and anyone is allowed to go into the water and snorkel with the turtles by themselves, as long as they have a lifevest on. The lifevest you can rent for around 4 euros up in the bars on the beach, and snorkel equipment for some extra.
When we went into the water we didn't have to go far to see the turtles hanging out in the bottom, they are all huge and so cute, I could float there for hours and just watch them. Every 10 minutes or so they come up to get some air and you can see them a little closer, then they go down again. It's not deep though, only around 2 metres so they are easy to be seen. This is definitely worth a visit. The beach is also really nice with palm trees hanging on the beach, nice water, nice sand and beach bars :)
LAS HIJAS DE LA TOSTADA/LOS HIJOS DE LA TOSTADA
Yum, I really want this right now! It was so good that Klemens and I actually thought of staying longer in Playa del Carmen just for this food…we didn't though. This place serves mostly Tostadas which is a Mexican or latin american dish, it is a toasted tortilla with toppings, normally fish or chicken. A bit like a taco but the tortilla is toasted. Order in some different ones and try a bit of everything. It is so so so delicious! Don't miss this place if you're in Playa del Carmen, it's got a really nice vibe and the people working there are awesome, at least the ones we taked to :P
LA SEMILLA
This is where we stayed during our time in Playa, it was really wonderful and in a perfect area with not so many party tourists. Read more about it and see more photos on our blogpost we made about Hotel La Semilla.
After three days we took the ADO bus down to Tulum, it only look around 1,5 hours so it was quite fast. From Tulum centre we took a taxi down to the beach. It was low season then which was perfect because it was quite empty, or empty enough for a chill and perfect atmosphere. Tulum has developed pretty fast and is now a very popular destination, I was actually there around 9 years ago with my family and it was completely different, but now I wanted to show my boyfriend and we were both a little shocked of how trendy it has become, but they still kept it very "jungle-y" by not having lights on the streets, some places don't have electricity and you can find turtles and raccoons every day!
Tulum consists of its pueblo and of Tulum beach which is where most tourists stay, it's around 10km long with hotels, bars and restaurants all the way down. You can either walk on the beach or on the street, going from place to place with taxis or a bike that you can rent in most places.
Here are some of my favourite places or things to do if you're planning a trip to Tulum:
La Eufemia is the most laid-back and chill place we found in Tulum and we loved it! Specially coming from Berlin where most places are like that. It is just by the beach, was full of local people, they have amazing Ojo Rojos (best drink we had in Mexico) and good and cheap tacos! They have a really friendly dog which is also drawn on their menu and they have happy hour from 6pm – 8pm! Perfect if you're on a budget! I also love bars on the beach where you can sit in the sand if you want, that's what you want on beach holidays right? :)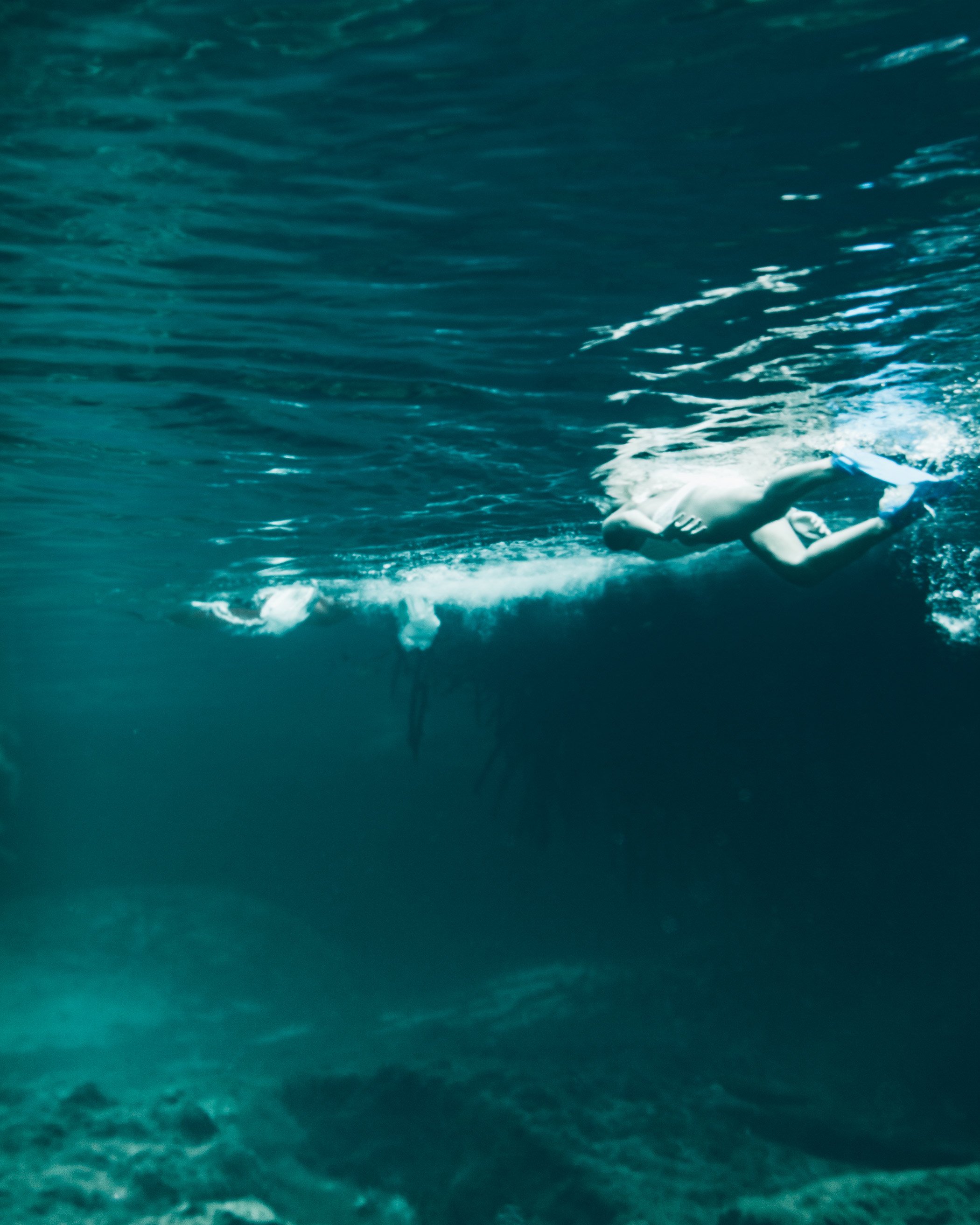 CENOTE AZUL
There are cenotes (lagoons) in every corner which are beautiful! There are so many different ones, some in caves, some in the open and some inside a hole. Make sure to check what you want to see before going. First we visited Cenote Azul which was in the open, it was beautiful  and nice to swim around in but not as amazing as the Dos Ojos which you will see further down, but of course it depends what you like :)
We heard a lot about this place and had to check it out. It is a restaurant but also bar and they normally have DJs playing and their parties are supposed to be great! I loved their place with all the little light chains everywhere, the shiny disco ball and cool crew! They also have a boutique outside with nice mexican designer clothes and accessories.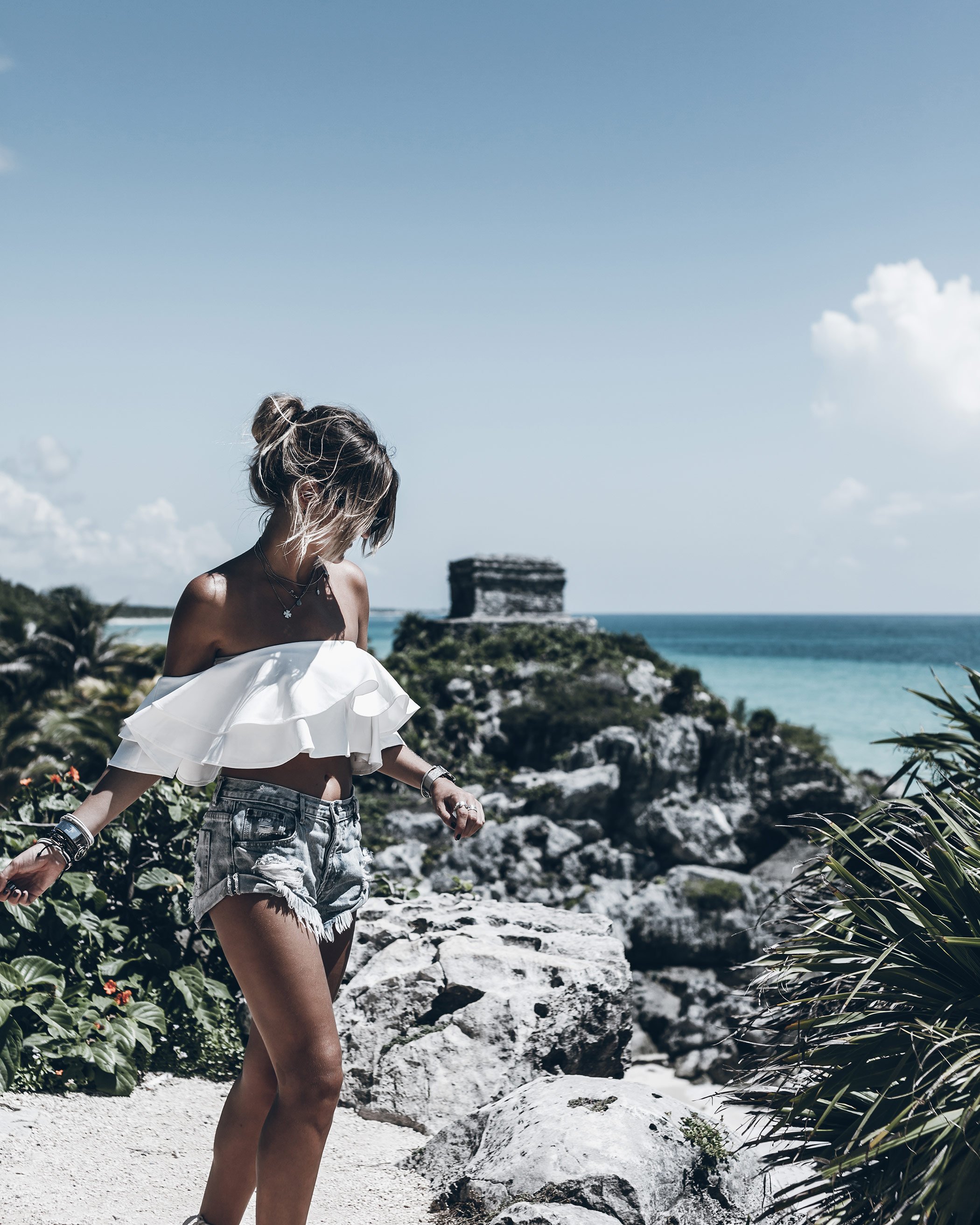 TULUM RUINS
The ruins of Tulum is the ancient Mayan city around 12 metres over the coastline, just by the carribean sea with beautiful see-through turquoise water. The place is a very popular tourist destination so be sure to go early in the morning, they open at 8am and close at 5am and you pay around 2 euros to get in. In Yucatec Tulum means "wall" from the big walls surrounding the area for protection of the eastern borders. It was a big crossroad of trade from Central and south America into the Yucatan, both from land and sea which made Tulum very important for the Yucatan. They were built and inhabited around the 6th century with 1000 to 1600 inhabitants but they all disappeared between the 13th and 15th century but leaving the Iguanas around which you can see everywhere. Like absolutely everywhere :P
It is a really interesting place if you're into history and want to see how they lived. There is also Chichen Itza which is bigger and only 150 km away but since I was there when I was younger and Klemens was dying of heat, we decided to only visit the Tulum ruins. We went quite early so there were not so many people, but since there is almost no shade it was really warm and we ended up just passing by and taking photos and reading a little of the information before we had to jump down to the beach (there are stairs). The beach is small but beautiful and the view is amazing! It is a nice way to spend half a day or even less. I would recommend to read about the Mayans a bit online before you go, it is always more interesting to see the place if you know what it is about and what actually happened there. They give you information but it is much easier if you have a little background information before :)
Beautiful ruffle swimsuit from Dulce Armenta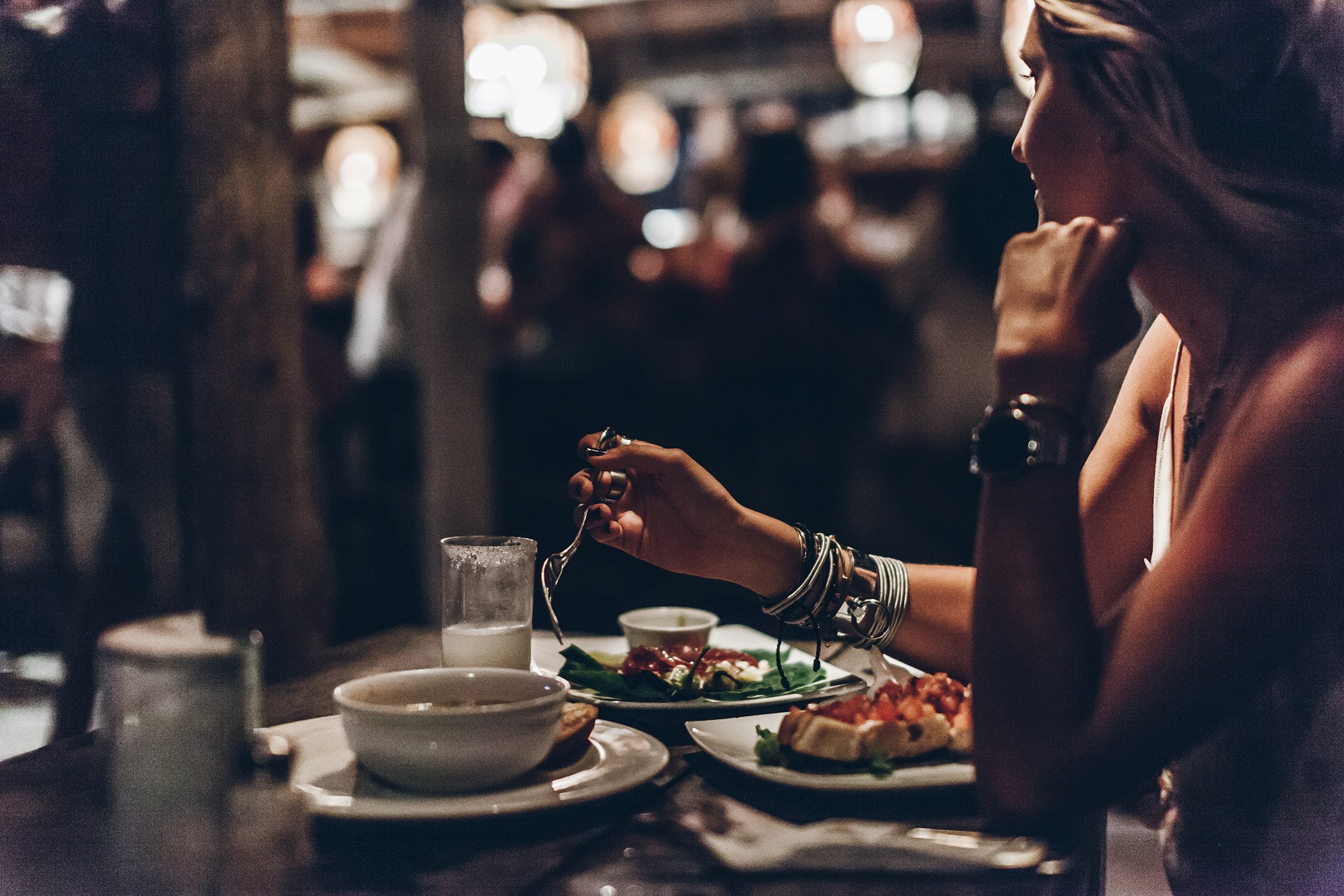 During our time in Tulum we stayed in Papaya Playa Project for some nights, it is a huge 900 meter long beach front property with different kind of cabañas and beach houses, but also a restaurant, bar and beach club. Every month they have a full moon party that we were lucky to attend, it was really amazing! Papaya playa is a really cool project by Design Hotels and has a very good energy with lots of creative people. We are preparing a blogpost about PPP which will be up soon and linked here for more information and pictures!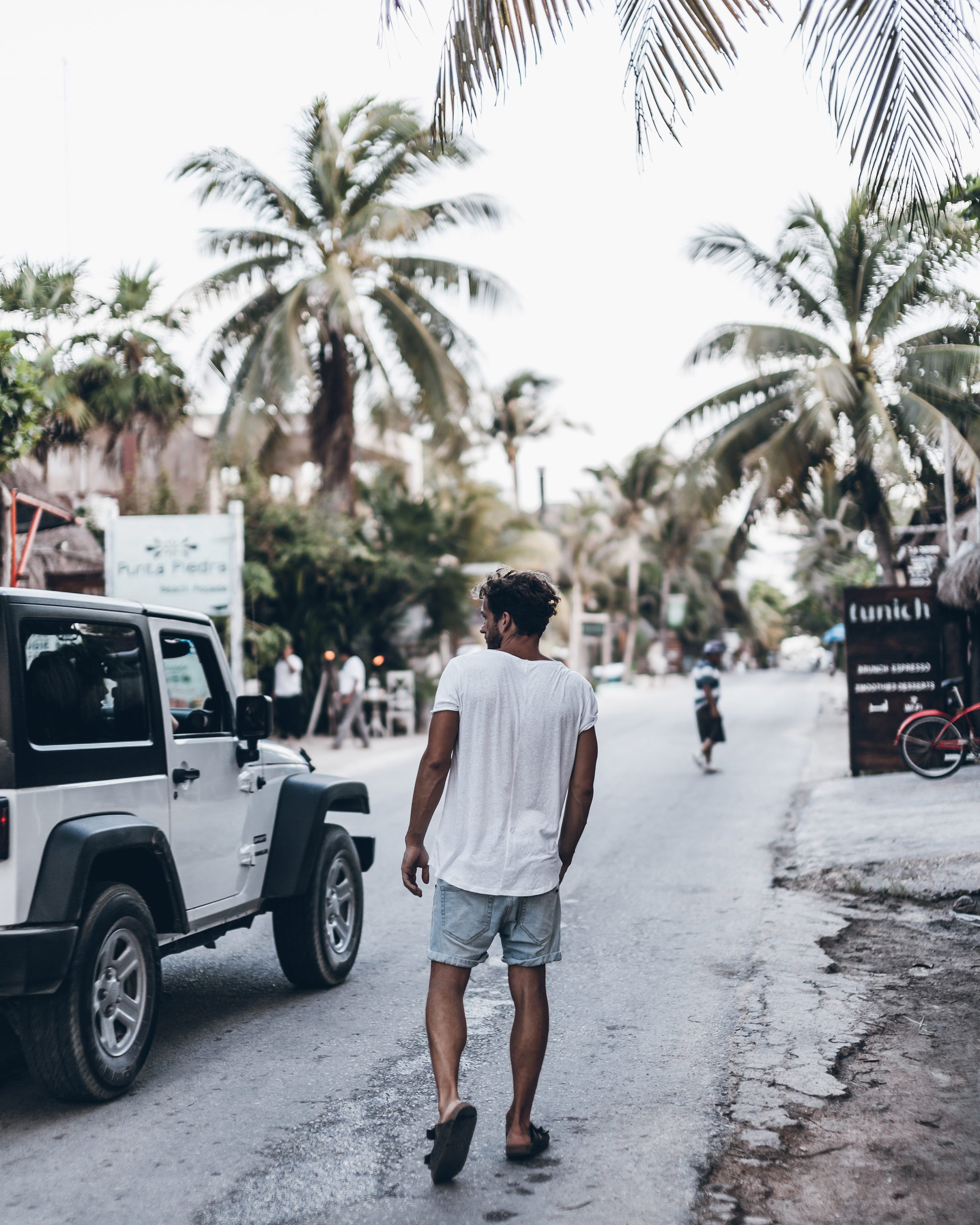 This place is famous for their breakfast/brunch and coffee, which is the only thing they serve and it is really good! The other places in Tulum are hotels or restaurants or bars, which makes Tunich the specialists of coffee and brunch. They have the best goat-cheese omelet I ever had, not to talk about the peanut butter/banana smoothie. Yummy! The staff is really friendly and welcoming as well which makes this place the perfect way to start the day! The owners of Tunich are a couple from Canada who just decided to make a change and move to Mexico with their kids around one year ago, they opened up Tunich and you can really feel and see all the love they have put into it. Not to forget, Tunich also has jungle cabañas where you can sleep, double like!
CENOTES DOS OJOS
We also went to el Cenote Dos Ojos which was my absolute favourite. They are two cenotes/lagoons in caves, so they are really mysterious and beautiful. The water is so refreshing since its a bit cold so it's definitely worth it to go, it's also a great place for photos ;) We had to pay almost 10 euros though to go in which is very much comparing to the other cenotes, so make sure to google the different cenotes around to be sure you get something you want to see because they are all different. Sadly I only went to two so I can't help much more… But Dos Ojos was really great!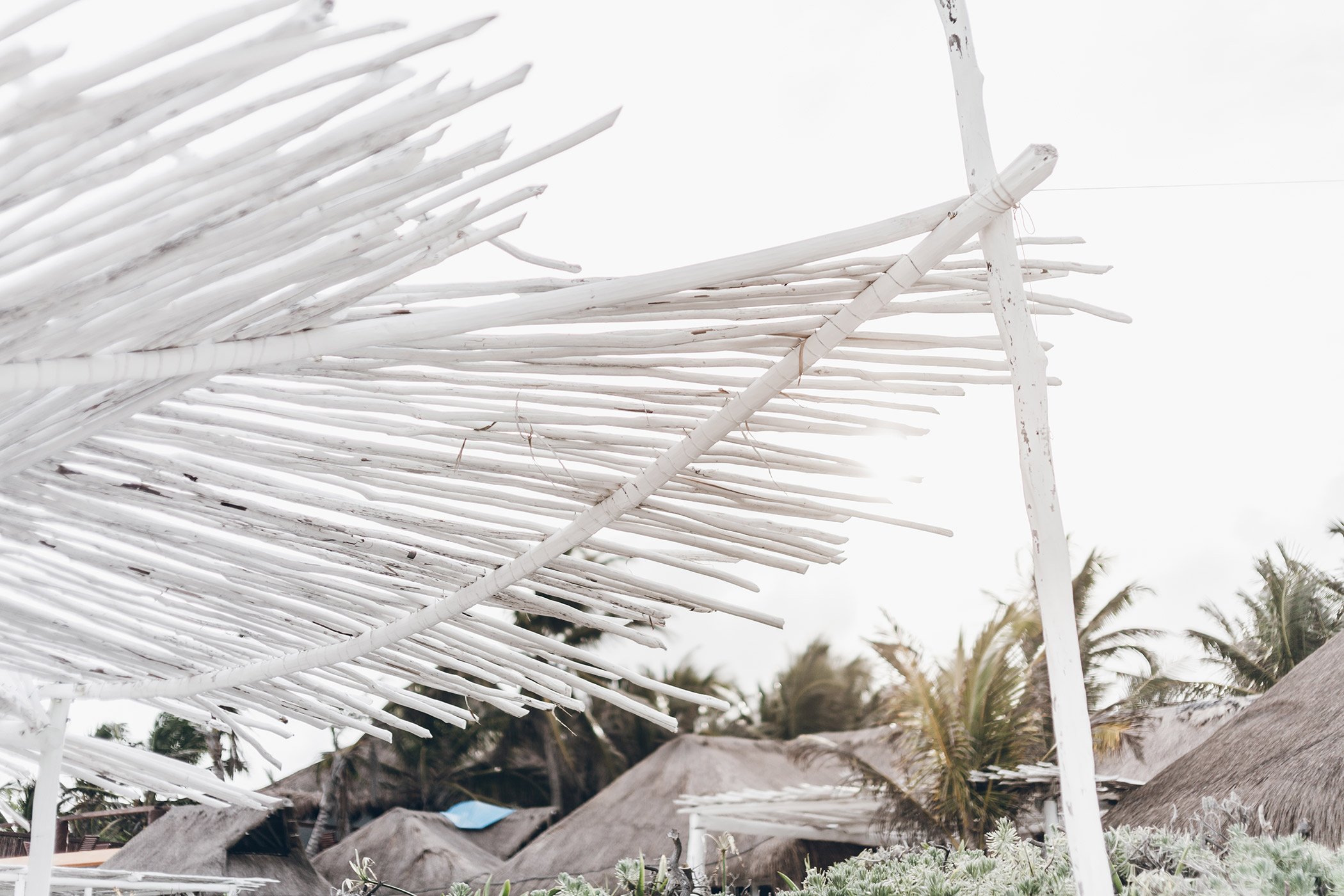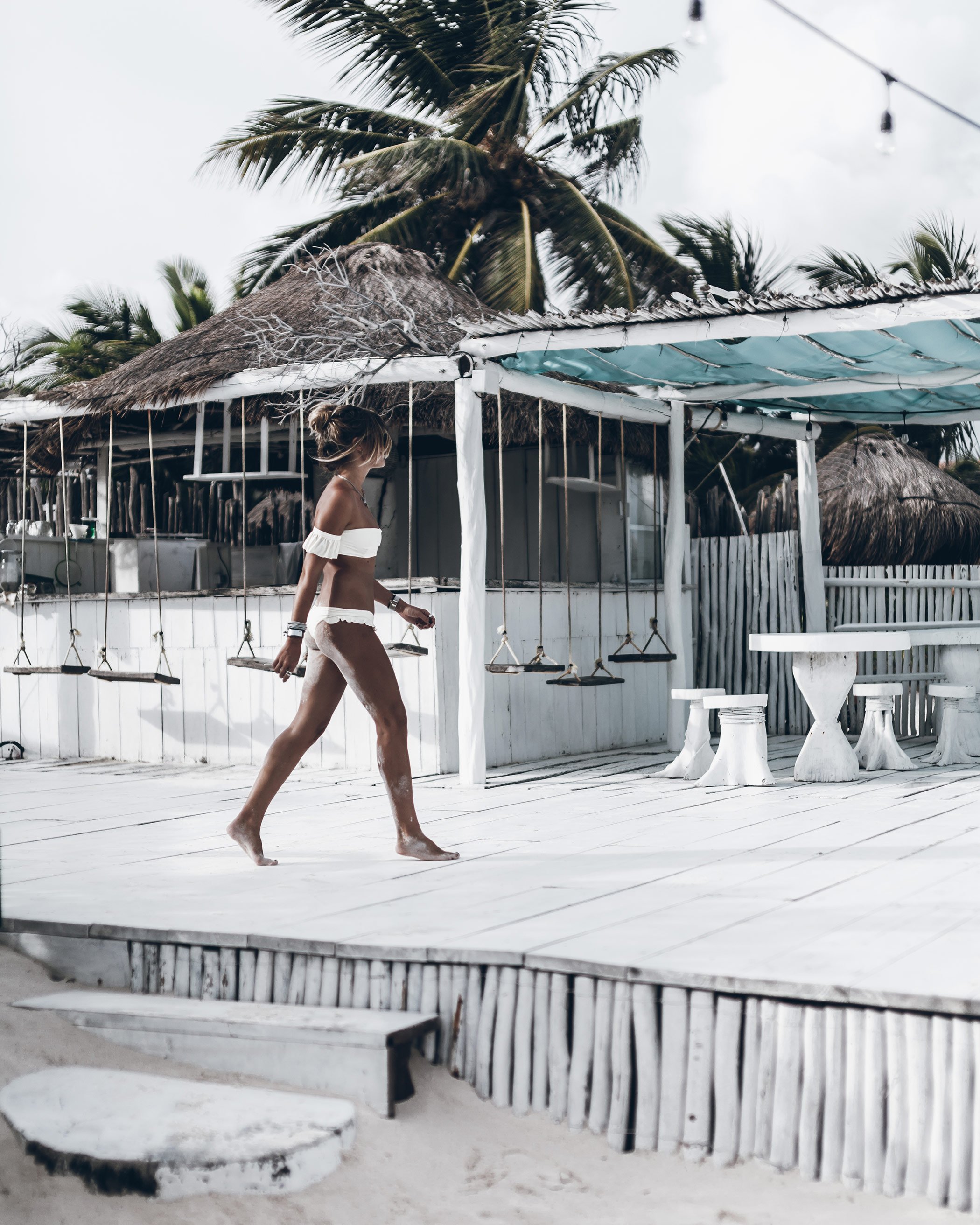 What I was most excited about when going to Tulum were all the cute beach bars, like this place called Coco. How amazing is it to sip a drink just by the beach, on a swing? :) I know it seems like we had lots of drinks on our trip… but we were thirsty! Can you imagine being in full humidity and 35 degrees all the time? Even our camera got destroyed, so we needed to chill down with our newly discovered favourite drink Ojo Rojo! It is a Mexican drink based on any kind of beer (you decide) together with Clamato juice, beer, bloody mary mix, lime juice, soy sauce, Tabasco, Worcestershire sauce, a lot of salt and rimmed salt on the glass! So good and refreshing! Coco Tulum is also a hotel with nice little cabañas!
Ruffle bikini from Midsummar swim
I heard so much about this place and I was not disappointed. Their food is outstanding, their Margaritas even better and the service is great! Make sure to reserve a table if you go, it is almost always full but somehow we managed to sneak though and get a seat by the bar ;)
They have the perfect rooftop where they have a dj playing together with a trombone player, the view is 360 degrees with both jungle and beach, most beautiful at sunset and with happy hour. Yes, there we have the Ojo Rojos again ;) Downstairs they have two floors where they serve yummy mexican food with great atmosphere. We tried the burrito which was very nice!
AZULIK
We were also staying in this beautiful hotel during our stay in Tulum, read all about it on our blogpost about Azulik Hotel & Spa for more info and pictures!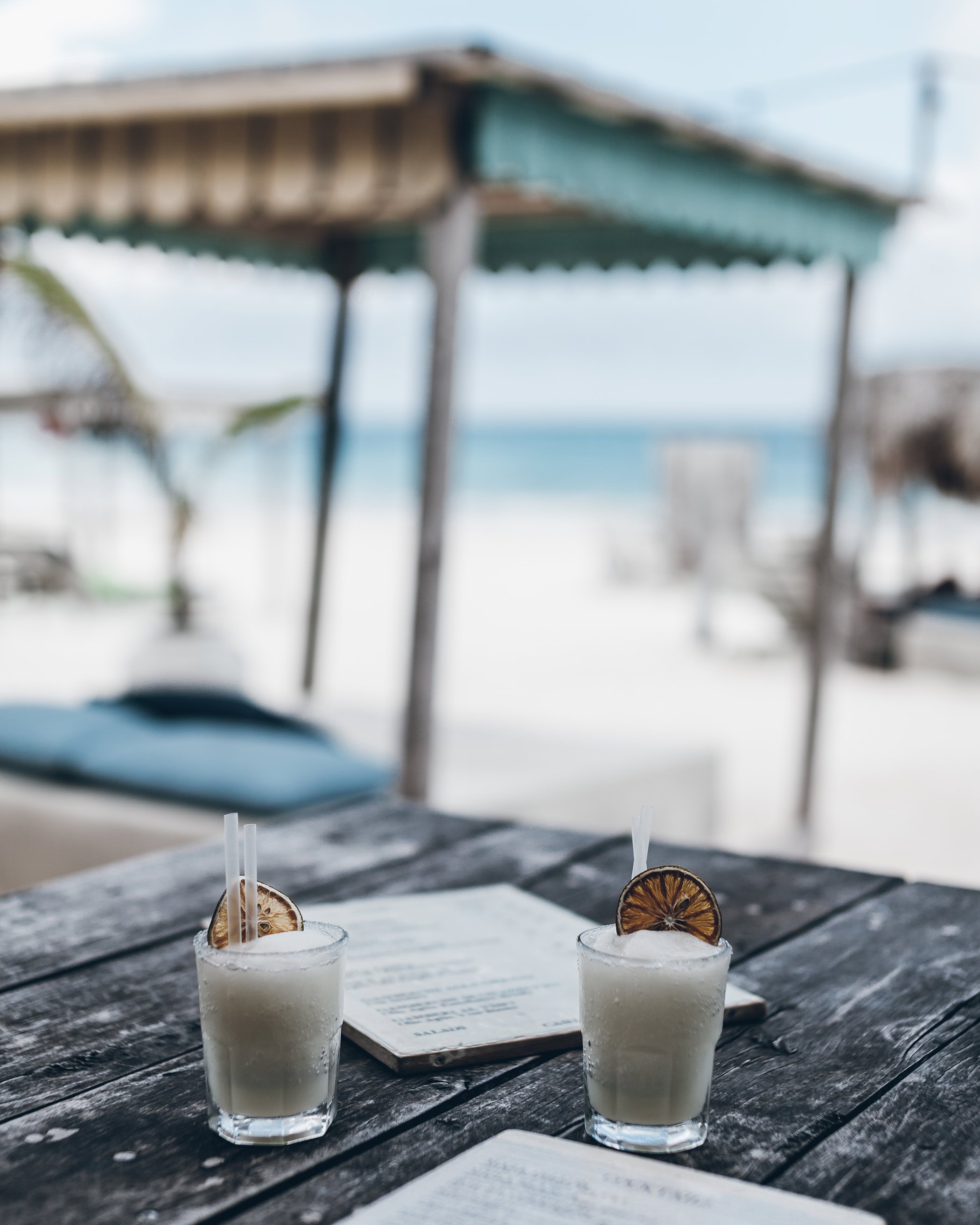 This is an italian place with amazing homemade pasta and their interior is on point! If you get tired of all the tacos, Posada Margherita is the place to go! As many places in Tulum, you can enter from the beach or from the road. If you enter Posada Margharita from the road you will walk through the most amazing little path full of nice plants, old chairs, motorbikes, bikes and any kind of nice stuff. They also have a little boutique with cute bikinis, nice jewellery and hats. Don't miss it!
So those were our favourite places in Playa del Carmen and Tulum! As a conclusion we both loved the whole trip, we met so many nice people and ate delicious mexican food all the time! I wish it would have been a bit more "mexican", more traditional music for example, but both Tulum and Playa are so touristic and specially Tulum has turnt out a bit like Ibiza but without the party and clubs. It is quite expensive but not too expensive, you can always get around a bit cheaper, but it is ok if you consider the beautiful place and amazing places. Every place is really perfect, so I guess it is worth it. We went there in September which was low season so it was very empty, a little too empty actually, but I've heard it is very full during high season which is in the end of the year, so maybe go in between for the perfect time :)
Hope you liked our little guide and maybe get inspired to go to any of these places, just don't forget the mosquito spray!
Lots of love xx Mikuta + Klemens
Shop my vacation looks: