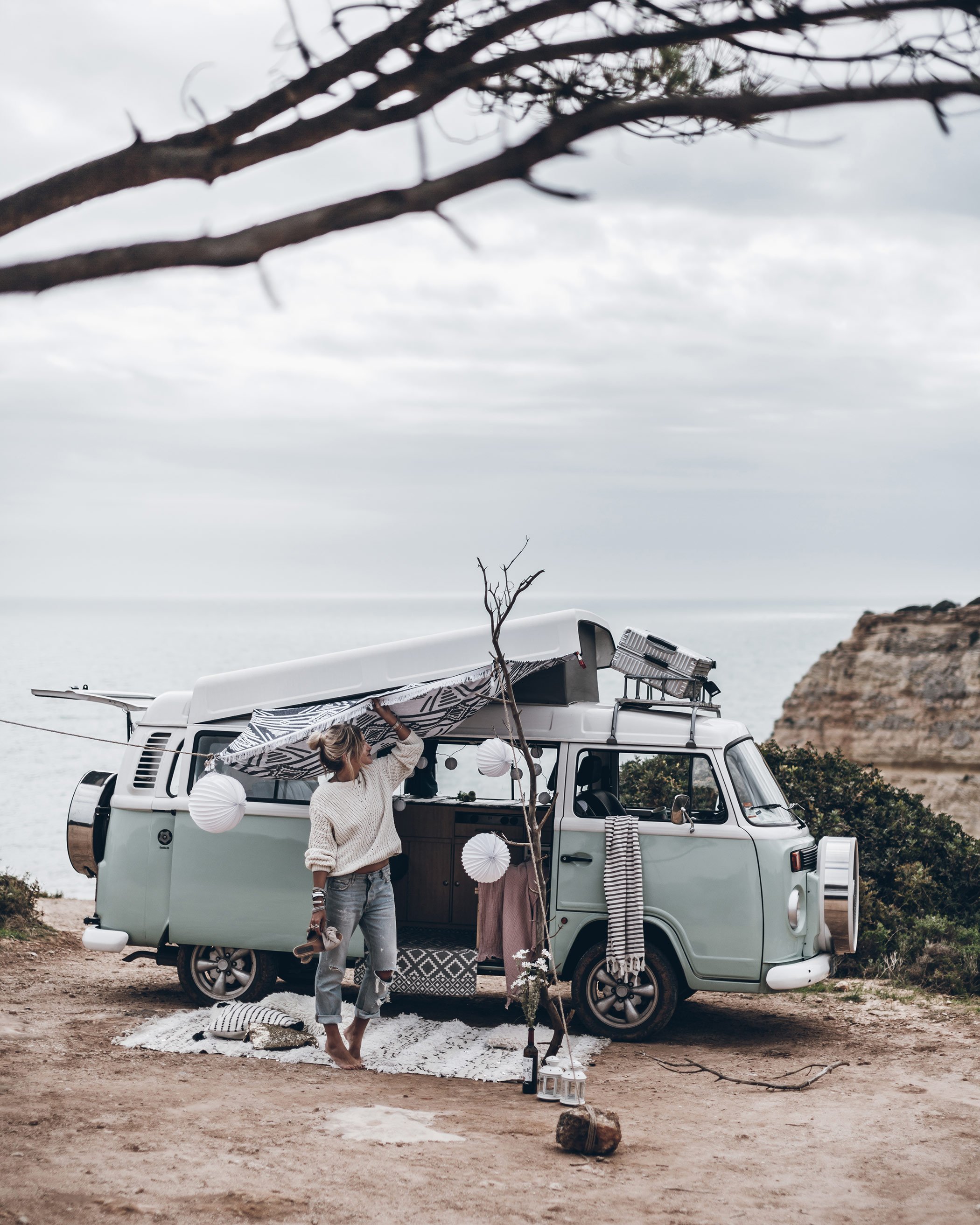 Hello loves, hope you had a great weekend! Doing a road trip with a cute van has always been a dream, and since Klemens and I decided to tick off as many points as possible on our bucket list this year, we planned this trip really spontaneously when we were in Sri Lanka and the month after we already packed our bags, flew to Portugal and picked up the most beautiful little Volkswagen camper-van we ever saw!
The first thing we did while planning our trip was to search for a van, we searched online and found Siesta Campers which seemed very nice, they have a bunch of campervans that they rent our all year around and as soon as we saw Rio we fell in love. The owners are really nice, explained us all the important things to know before doing a road trip like this and met up with is in Faro where they left us the van for a week. We wanted to drive from Faro up to Lisbon where we would return the car, we have never done anything like this before and normally I always plan our trips to every detail but this was so spontaneous and I didn't have much time to plan. So there we were, Klemens, Rio and I, in the car, driving somewhere we didn't know, ready for one of the most fun adventures we ever had!
I've put this post step by step with every place we visited and where we slept. We free-camped and every second night we checked into a campsite for a shower and to charge up the batteries. All the way at the end of the post you will find a little map. Let's go!
We flew to Lisbon and took the train down to Faro, since we arrived quite late we spent the night in a hotel and met up with Claire from Siesta Campers to pick up Rio the next day. Once we got the keys, we packed the van with all our bags, got some insights and tips on what to do and where to go, we were on our way! We went to the super market, bought necessities, food and drinks, once we had everything we needed we continued driving. We drove around and saw beautiful places on the way, but it already got dark so we decided to stay the first night in a camping. I searched on google and found el Parque De Campismo De Armação De Pêra where we slept.
Carvalho beach, Lagos
The next morning we left the camping and drove towards Lagos where we were amazed by the beautiful landscape of Portugal. We searched and drove around for hours searching for the perfect location to camp, luckily we found this place in Lagos right in between Carvalho beach and Terracos de Benagil. The best thing about going on a road trip in Portugal during March – or in the end of Summer is, that there are almost no other campers! We were mostly alone everywhere we went which was perfect. In Summer there are much more people and it might be harder to find places to camp and to free-camp. We didn't have the best weather in March though, there had just been a storm and we were unlucky with quite a lot of rain. Good thing we had each other, wine and good books to enjoy inside the van when the rain poured down, can't complain, you can always make it cozy!
The campervans from Siesta Campers come fully equipped with everything you need, pillows, duvets, plates, cups and cutleries, but since we wanted to create content during our trip we brought a lot of decorations from home such as blankets, rugs, lots of pillows and all other kind of things. I wouldn't recommend it though, if you go for holiday and want space, the van is not that big and it got quite annoying to have so many bags since we had to move everything around all the time.
Praia de Marina Lagos
The morning after our first free camp we woke up, made coffee in the little kitchen and drove to this beautiful place just by Praia de marina lagoa, you are not allowed to camp there but it was beautiful to walk around and do a little hike, once again I'm so amazed by the coast of Portugal, look at those rocks! It's different from any other place I've visited in the world, so peaceful. That night we needed to shower and charge the batteries, so we went to sleep at the Salema eco camp which Siesta Campers recommended us, it is a great and cool camping with a nice restaurant/bar, a surf beach just below and cool people, I really recommend this camping place.
Sagres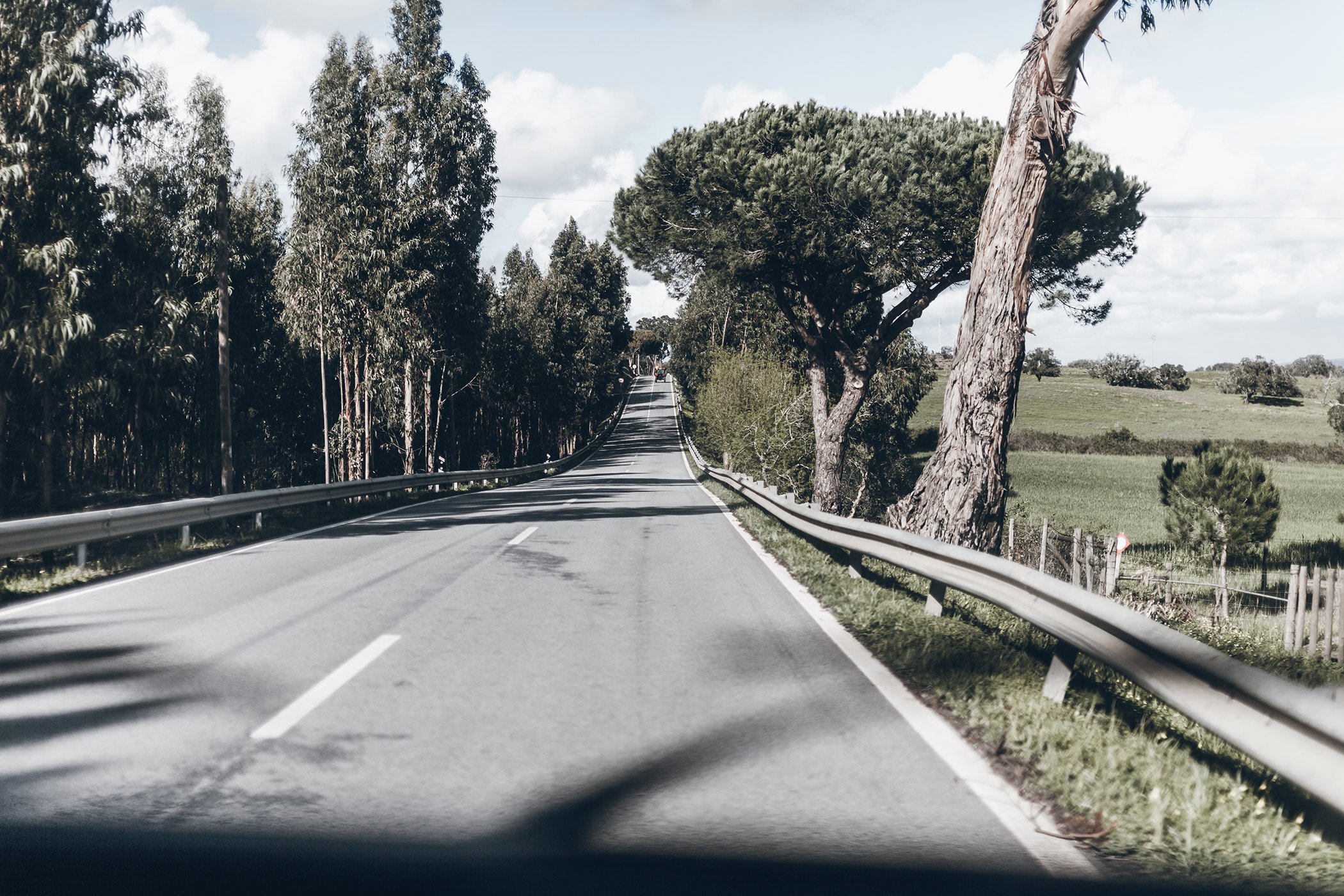 The morning after we had breakfast and it was time to leave again, we wanted to visit Sagres which is a famous surf spot and also where Portugal's famous beer comes from. Sagres is a really cute little village with a big fortress and beautiful views. We parked the van and started walking around the natural area on the rocks and later we walked down to check out the surfers. If we had more time we would definitely have slept over in Sagres, but since we needed to be in Lisbon by the end of the week we had to get going.
Costa Vincentina – Next to Carrapateira in Aljezur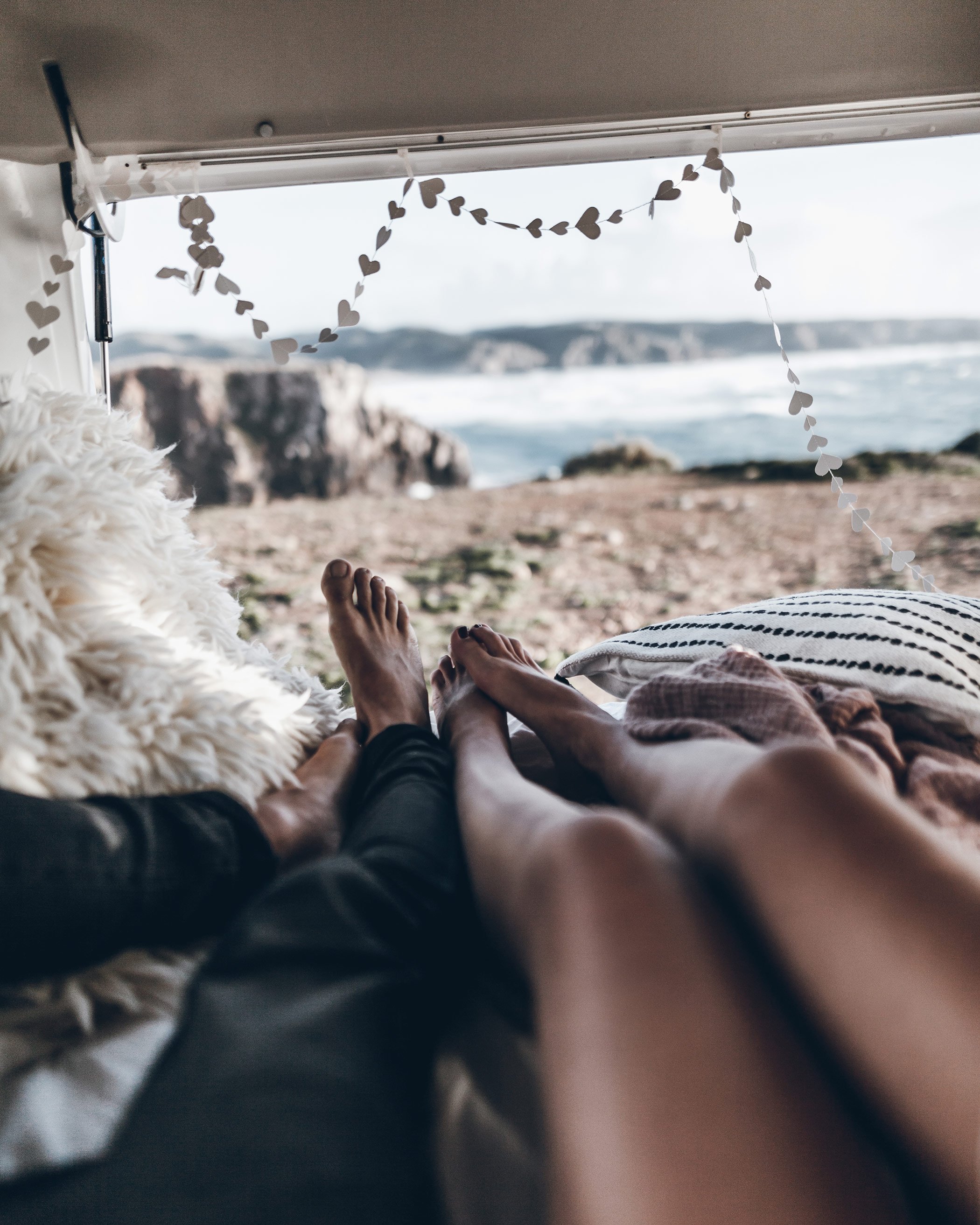 It was finally time for free camping again which is the most fun. While driving around without having any specific plans we ended up on a little road which took us to our favourite place during the trip, at the Costa Vincentina just next to Carrapateira in Aljezur. This area is huge with views over the whole coast, these massive mountains and big waves splashing the rocks. There were a lot of campers at this place which was quite nice, we didn't feel so alone, although there were lots of campers we didn't have any people close to us, at least we could see them. Free camping is an amazing experience, but since I had never done this before it could get a bit scary at nights when there are no lights.
We found a perfect little place at the edge of the coast line where we parked and prepared for the night, cooked dinner and watched the sunset to later fold out the bed downstairs and make it cozy with the warm duvets and fluffy pillows! Sleeping in the van was very comfortable, there is a bed downstairs which you fold out and there is also a bed upstairs where you can sleep if you open up the roof. We tried both, it was more comfortable downstairs but more convenient to sleep upstairs because then you don't have to move around your stuff and fold out the seats etc etc… But in the end you can easily sleep 4 persons in the van with no problem which is pretty impressive!
Porto Covo
Next day it was really sunny so we took the seats and table out and enjoyed a long breakfast in the sun before we packed everything up again and started driving north. The best part about not having any specific plans was to have the freedom to go wherever we wanted, we could drive up the coast and if we liked a place we could stay, just to watch the view or to sleep. This night it was time for a camping place though, so we stopped by el Parque de campismo Galé. This was a really nice camping place as well, it was very empty while we were there but I can imagine it's really cool during summer. It's located just in front of the beach and has a lot of places to hang, it seems like a place where lots of surfers come from all over the world.
The next day we drove down again towards Porto Covo, just below the village we found a beautiful little area where we stayed, it was sunny and we decided to spend the day and night there. As you can see on the photos above the van is fully equipped. The kitchen has everything you need and there are so many drawers hidden in the van where you can put your food, and a fridge with a freezer to freeze those beers! Siesta Campers offers several extras as well which you can book before hand, we booked a portable Wifi box, a little chemical toilet and a barbecue grill to be all equipped. There is a table hidden behind the seat which you can put up when it's time for dinner or game time, and there is also two camping chairs and a table to put outside.
Lastly we drove up all the way just below Lisbon by the natural park and slept at the Campimeco camp beside Aldeia do Meco in Sesimbra, a nice little camp just to sleep!
As a conclusion this was a really fun trip, we loved driving around little Rio from Faro to Lisbon, to fall asleep with the sound of the ocean and wake up with the sunrise and boil water in the little kitchen for our morning coffees. I loved the feeling of being so free with no real obligations, it was just Klemens, Rio and I, having the cosiest time discovering the coast. It would be a dream to do this again, maybe with friends, when it's warm, having bbqs and playing games!
These are the trips that matter the most, moments to remember, a different adventure than all the others, a bit similar to our Sri Lanka trip. Sleeping in fancy hotels can be fun, but waking up, having your feet out in the air smelling the fresh air of the ocean beats most of it <3 I definitely recommend this trip – find our route on Google maps below!
In friendly collaboration with Siesta Campers. We miss Rio already!