Hello loves! Time for Q&A part 2! I let you guys ask some questions on my IG stories and here is the second part, if you missed the first part find it here.
Lets go!
★
How do you stay fit and healthy while travelling?
I try to eat as healthy as possible and do as much exercise as I can but it is really hard, I am terrible at doing workout, I just can't be disciplined enough to do it. Klemens is really good at it and has been doing workout every second day for years, so he kind of helps me to get going and motivates me. 
It's very hard to do workout when we travel, the hotel rooms are normally too small and I'm not the kind of person that goes to the gym or goes running in the early morning (wish I would but I prefer sleeping haha), so in the end I do workout when I'm in Berlin. 
I just started doing the Kayla Itsines workout again which I really like, if you don't know about it already you should check it out. You get a program with exercises you do 3 times per week and they really work. I do those exercises at home and when it's good weather we go out running. Hopefully I can keep up with it :P
★
How did you meet your boyfriend? You look amazing together <3
Thank you so much! Klemens and I met when I moved to Berlin. I lived in Barcelona before and when I decided to move to Berlin a friend of mine posted on his facebook and asked if anyone had a room available, at that time Klemens was online and had just decided they wanted to rent out their extra bedroom in his flat, so we got connected and started talking on Facebook. I rented the room for 3 months but never got the chance to move because jobs came up all the time. Klemens thought I'd never come to Berlin in the end but one day I moved and we met the first day! We kind of clicked directly and in the end we became a couple! I think it was meant to be that I moved to Berlin to meet him. I didn't move to Berlin for any specific reason, I just wanted to move and now I understand why <3 We still live in the same apartment after 6 years. We are like salt and pepper, very different but complimenting each other perfectly. 
★
What would your super power be?
To be able to heal people and get rid of diseases. 
★
Whom would you invite to your dream dinner party?
The first idea that comes up is definitely Celine Dion! She feels so chill and cool. She used to be my biggest idol when I grew up. When we moved to Mallorca we shared an apartment with our cousins family and the chef for the restaurant our parents opened together. Every family had one bedroom so it was very packed. We lived like that for two years and my cousins family had a computer where I could listen to music, they had a Celine Dion cd which I listened to over and over and used to draw pictures of her in Paint. When I graduated my mums cousin (which we lived with) gave me a ticket to go and see Celine Dion live in Stockholm and it was one of the best experiences I've had, I was crying of joy 2 weeks before the concert and 2 weeks after. I love her. My dream is for her to sing on our wedding but it's too expensive, I've checked :'(
★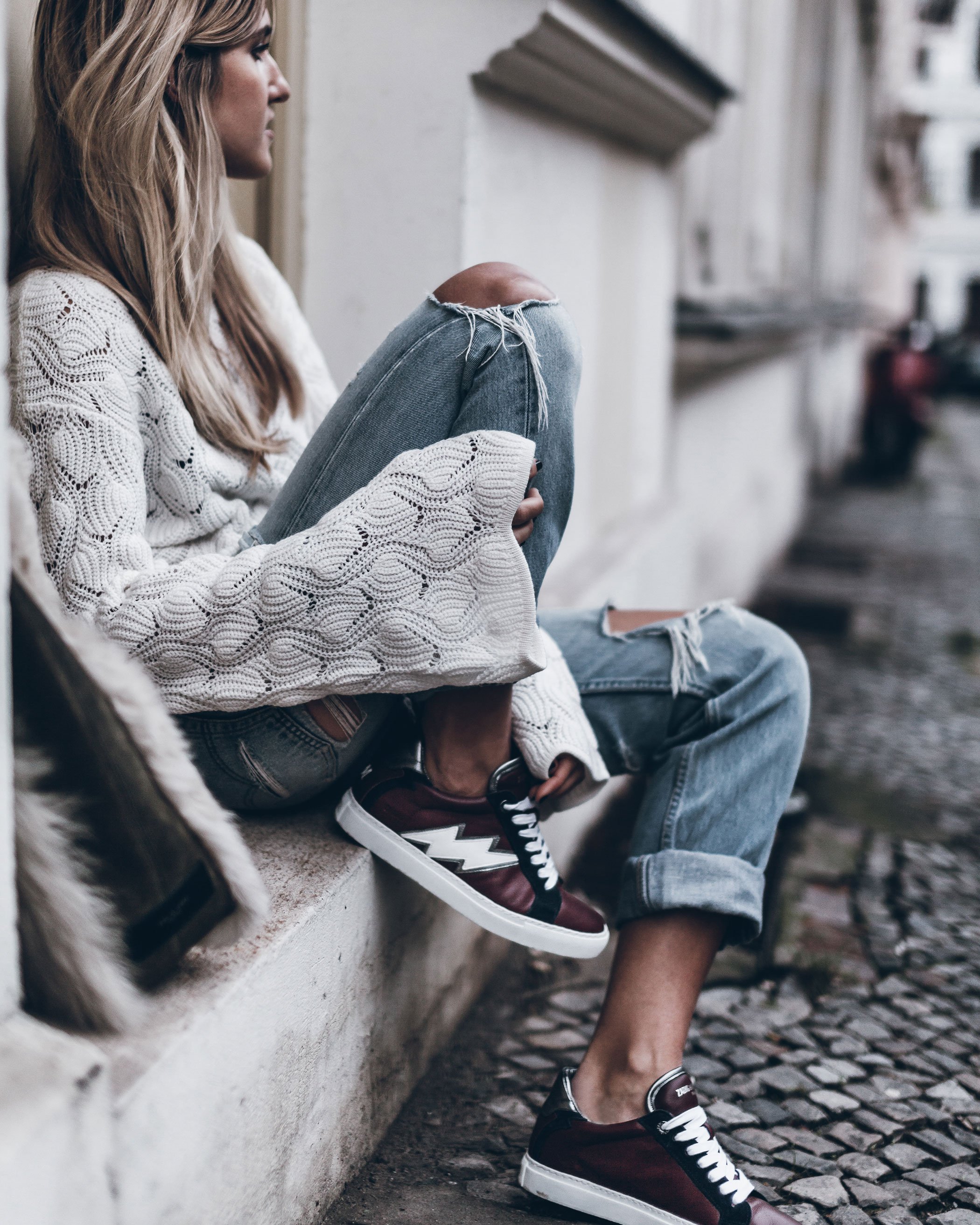 I would like to know which your favourite stores/brands! I'm obsessed with your style <3 
First of all, thank you very much <3
My favourite brands are Zadig et Voltaire, Iro, Ganni, Isabel Marant and Golden Goose for shoes. I also shop a lot at Zara and Mango because they always come out with fun and exciting pieces for an affordable price. I buy most of my knits at H&M, I find them much nicer than the ones at Zara, I like the fit more from H&M and somehow the quality seems better on their jumpers. Most of my shoes are from Zadig et Voltaire or Golden Goose, they are more expensive but the quality is amazing and with shoes and bags that you wear and use for a long time it's better to invest a bit more so they last longer. I never really buy shoes from Zara or H&M because they just break after a while, at least for me, my sister always makes fun of me because my shoes always get so "destroyed" while hers looks like new. 
For jeans I wear a lot of citizens of humanity or Levi's, I love their quality and the feel of the denim. 
★
How long did it take to create your every day jewellery combination? :) It's remarkable!
Around 3 years more or less. I almost didn't wear any jewellery before and then I got pieces on my birthday and Christmas from my mum and I started to like it. I mixed and match with everything I had and in the end I fell in love with the all silver look. My mum has always been wearing A LOT of bracelets and she kind of inspired me, now we all have similar jewellery :P 
A lot of my jewellery I got in different flea markets, some from different jewellery brands and the others are my own :) I will make a post about all my jewellery next week, right now I'm at the country side and for the first time I didn't bring my jewellery with me. Not even the camera! 
★
Next Q&A coming soon!
Lots of love xx Mikuta