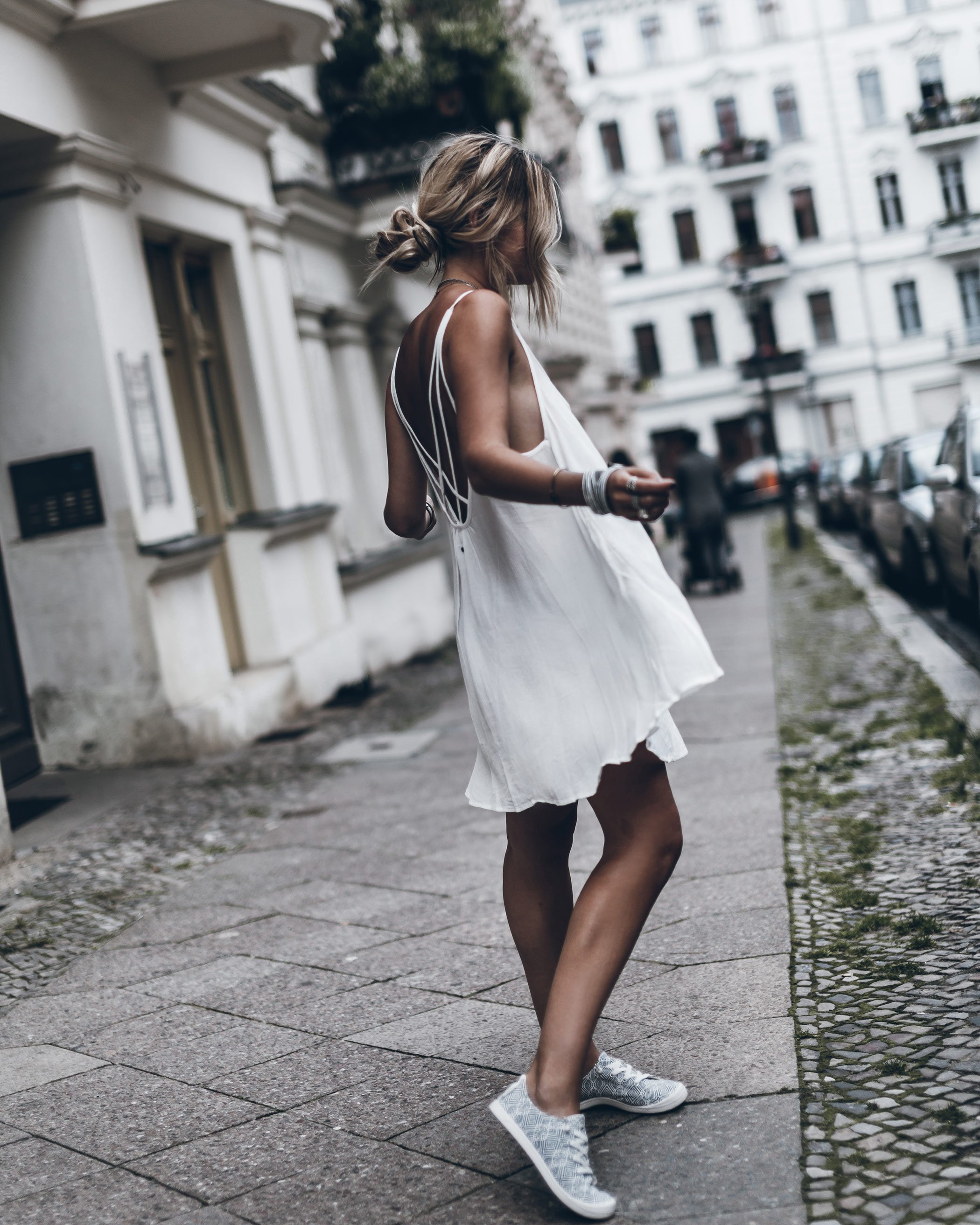 Hello! Here's a very neutral post with my favourite colours to wear, white, grey and blue. It's also all about sneakers today which is also something I burn for, nothing better than comfy but nice looking sneakers paired with a dress, shorts or jeans… ROXY just launched their new ROXY Bayshore and Palisade sneakers and together with DSW they asked me to create different looks wearing their shoes and of course I wanted to! Their new sneakers comes in different shades and models, I love the laced ones, they are really cute with their little knots at the end of the laces and made of soft fabric with stitched details. The other pair doesn't have laces, almost like an espadrille but with rubber sole. The best part about the shoes is that they are so bendable, you can really roll them together if you want which make them really comfortable to wear, they are also very light weight so perfect for running in the city during summer.
I paired all the shoes with clothing from ROXY, for the first look with the beige slip-on Palisade shoes I wore an off-shoulder top and blue jean shorts, I really like the sleeves and cut of this top and how the colour is the same as the shoes.
For the laced sneakers with print I wore a simple white dress, which is probably my favourite and something I'd like to wear all summer, I adore the back of this dress and how flowy it is. The white dress also brings more attention to the print of the shoes.
For the last look I wore a b/w striped dress together with the grey laced Bayshore sneakers, the grey ones are definitely my favourite ones, the fabric and colour is beautiful and I can imagine these shoes looking perfect with anything, this striped dress, the white dress, the top and shorts or just some cool ripped denim.
Now the fun part, together with ROXY and DSW we have a give-away where you have the chance to win 3 pairs of these ROXY Bayshore shoes in new season colours, as well as a 500 dollar ROXY gift card and 250 dollar DSW gift card! 
The give-away takes place on my Instagram account @mikutas, make sure you follow @dswshoelovers and @roxy, then in my comments under my IG picture tag @dswshoelovers, tag @roxy and then tag a friend. On the 28th I will announce the winner, so make sure to check then ! See all info here as well. Good luck! <3 
Lots of love xx Mikuta