In collaboration with Kapten & Son.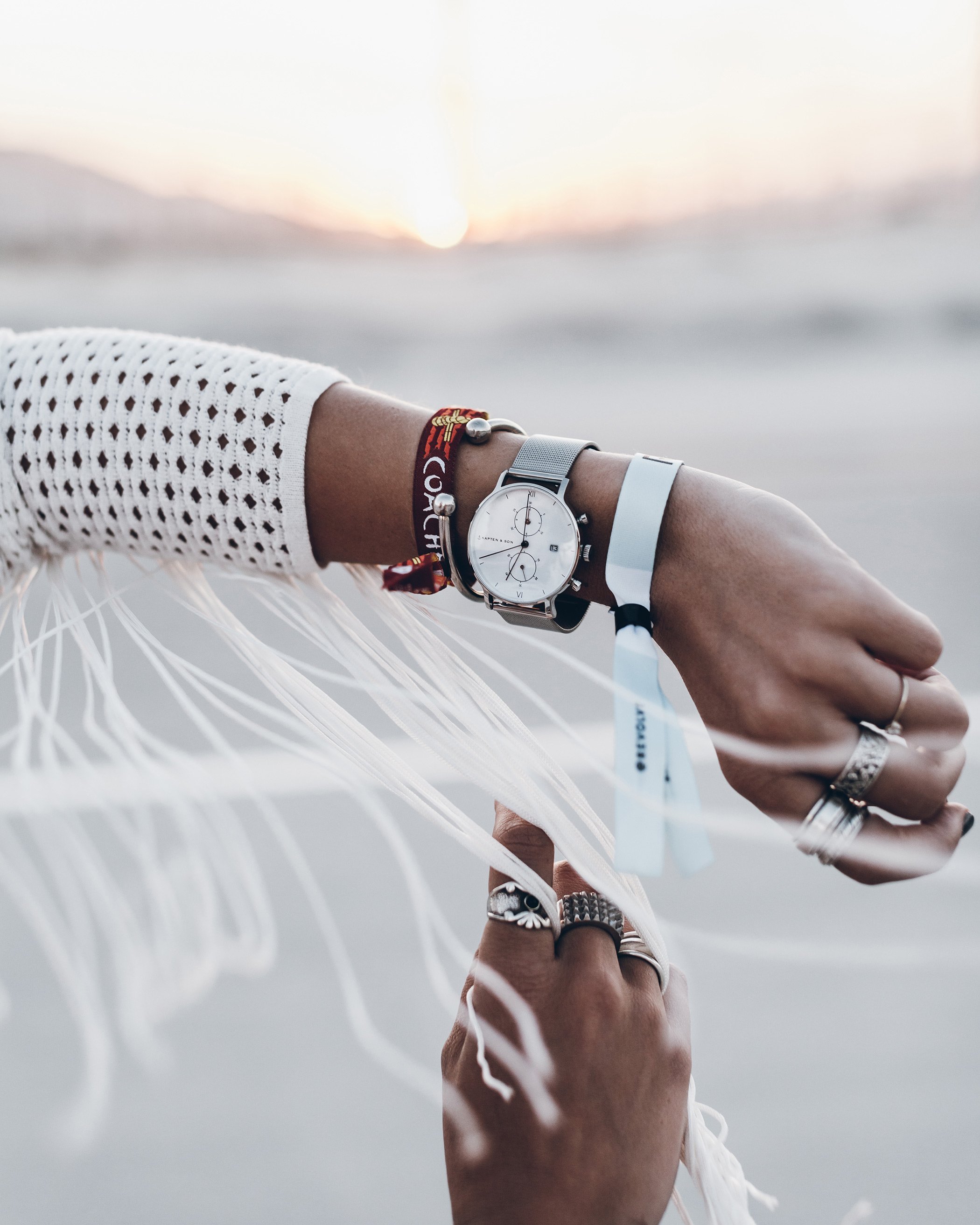 Hello loves! After 3 times on the festival I learnt what to pack, you might think it's enough with a little dress and boots since it's all warm and sunny and you will be dancing all the time, but that is unfortunately not the case. First of all the festival is located in the middle of the desert and most people we know including ourselves stay in Palm Springs or Palm Desert which is about 40 minutes away with car, if you're unlucky and go in the peak hours there's a lot of traffic and it can take up to 1-2 hours to get there and back. We always go with car because then we can park the car in the parking and can leave whenever we want without having to wait for the shuttles, so that is my first tip :) Since it is located in the desert it is really warm during the days and very cold in the evenings as soon as the sun goes down, it can also be very windy with a lot of dust in the air, because of all this we always pack a bag full of things to survive the festival days! This year I brought my Bergen "Sandstone" backpack from Kapten & Son which doesn't only match the sand dunes but also very practical because there is so much space!
Here is a list of my packing tips:
● A little scarf. You will want to cover your mouth and nose with a little scarf when the sand storm hits.
● A big scarf. I like to have one to sit on while chilling on the grass waiting for the next artist to play or while you eat, or just throw around you if it gets cold.
● Sunglasses because you don't want to get blinded by the strong sun and it's also the perfect accessory :) Mine are called San Francisco Gold Green from Kapten & Son.
● Sunscreen. I always bring a little sunscreen face mist that I can spray on the go, it's transparent and doesn't destroy the make up. But also remember to spray on the rest of the body and specially on the shoulders if they are bare!
● A jacket. Everyday I bring a jacket for the evenings when it gets chilly. We see people freezing every evening and not having a good time because they go to the festival in almost no clothes and a little mini purse so they can't fit a jacket
● And of course a watch to keep track of the time ;) I always wear a watch and I always wear my Chrono from Kapten & Son, I've just changed to the Chrono Silver "Mesh" and I love it!
● Secure your phone! Klemens and I always write each others contact/phone number which we put on our screen savers, so in case we lose our phones and someone nice finds it they can easily contact us by checking the screen. Unless we both lose them but that is unlikely! Knock on wood :P
● Phone or a small camera for photos. You are not allowed to bring a camera with a detachable lens, only smaller cameras are welcome.
These are my main tips, bring a bag with the necessities and enjoy the whole weekend without sunburns, freezing arms, missed shows or a lost phone!
Find my Kapten & Son pieces here:
Backpack / Sunglasses / Watch
Lots of love xx Mikuta