Hello loves! Today I wanted to make a little post with my favourite places on the beautiful island Mallorca. I already got a lot of questions about tips and places, and instead of telling people one by one I thought it would be smart to just have it here on my blog :)
I love Mallorca and spent a lot of time there since I moved there from Sweden with my family when I was nine years old. I went to school there and stayed until I was 15, when I went to study in Stockholm and after that I never really "moved" back there, but my family still lives there and I go and visit multiple times every year. Some of my closest friends also live there, so with family and friends there, Mallorca is still my "home" and always will be!
So, I will start with beaches since that is where people mostly go when visiting the island!
WHERE TO SWIM AND SUNBATH
Cala Deia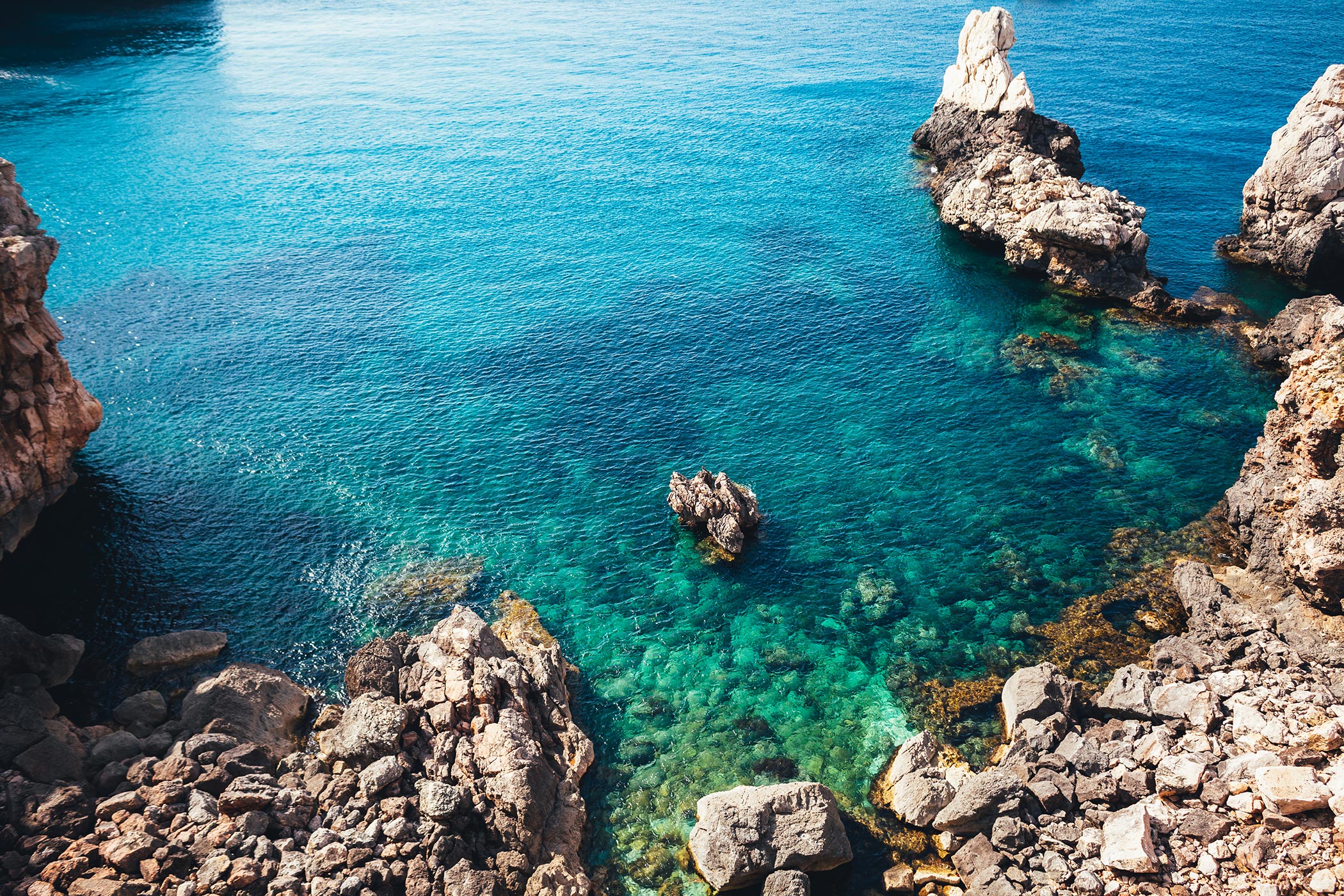 On the north-west side of the Island, beautiful drive to go there. There is a beach if you drive down, better check the map for directions. The beach is a stone beach, full of round stones but the water is incredible. They have a great restaurant on the mountain as well! The Deia town is also great, lots of bars, coffee places and restaurants, there are a lot of artists living there, so you will definitely find some interesting people! (Carrer Sa Cala, 16)
Es Trenc
On the south-east of the Island. It's a long long beach, super white sand and amazing clear blue water, just like in Thailand! Spend the whole day there since it takes a while to drive! They have a lot of chiringuitos, so you can stay when the sun is going down having a drink with a beautiful view! Don't forget to pass by their little "salt village" where they produce and sell their own salt!
Costa de la Calma
This is a bit closer to the centre. It is a rocky beach, so no sand. It's the beach where I go the most. It is almost only locals there, or well, international people that live on the island. They have an amazing chiringuito with the best Pa amb Oli on the island, you have to try it, typical Mallorquin food!  You can also go a bit later when the sun goes down, then people come to drink cocktails in the bar, amazing place!
Illetes 
If you don't want to go to far, if you're staying in the centre, there is an amazing beach close to Palma, you can take the bus nr 3, its at the end station! They have two beaches, one bigger and one smaller. If you jump off the bus the big one is on the left side and the small on the right. They both have restaurants. I like the smaller the most, cozier. The water is beautiful and the sand as well!
Delta
This is another rock/cliff beach on the south of the Island, after Arenal. Beautiful and relaxing! They have a famous beach club called Mhares which is really cool, a bit expensive but if you're enjoying beach clubs this is a good one!
WHERE TO EAT OR DRINK COFFEE
Chili lounge
I put this first because this is my favourite, it's also my familys restaurant so of course! :) It's located on the Magaluf beach, just in front of the beach and serves mexican food – tacos, fajitas, nachos but also burgers and pizzas. It has a big terrace and serves very yummy frozen Margaritas and of course other tasty cocktails! (Carrer de la Punta Balena, 18)
El Aquanauta
This is another mexican restaurant which is located in Palma, in Santa Catalina which is my favourite area in Palma. The restaurant is super cozy, always full, amazing interior and really fun guys working in the bar! A must try! (Avinguda de l'Argentina, 27)
Horapa
This is also in Palma in Santa Catalina. It is just a little hole in the wall but with some seatings where you get fast and cheap but AMAZING thai food! There are always a lot of people so you might have to wait, but then you can have a drink at Vintage bar just beside while waiting for a seat! (Avinguda de l'Argentina, 9)
Cafe Antiquari
The cosiest little coffee place/bar in the centre of palma. It's located on beautiful stairs and a perfect place to stop by when you're out shopping or just walking around in the centre. If theres no place outside on the tables you can just sit down in the stairs enjoying your cafe con leche, no problems! (Carrer Arabí, 5)
Bar Coto
Also in Palma, actually a German place but not german food. It is super cozy with yummy food for both lunch and dinner! It is on a cozy square in the middle of the city so its nice to sit there and watch the people as well! (Plaça de la Drassana)
Boathouse
This is more for breakfast or lunch, but you can also have dinner I think! It is on el paseo maritimo, so down by the port of Palma. Really cozy and nice to chill! (Avinguda de Gabriel Roca)
WHERE TO DRINK AND LAUGH
Hostal Corona
A cozy hostel with a great garden bar. They serve very yummy berry mojito, have fire and give you pop-corn. A really romantic place to go with your partner, but also lots of fun with a big group of friends! (Carrer de Josep Villalonga, 22)
Brass club
In this bar they serve the best cocktails in Palma, they have a very creative menu with some drinks I guarantee you never tried ;) This is a place for the cocktail lovers! Amazing interior as well, really cozy! (Passeig de Mallorca, 34)
Es Baluard 
A nice terrace with amazing view over Palma, a cool chill out place with music and drinks! Nice in the afternoon when the sun goes down! (Plaça de la Porta de Santa Catalina)
Soho Bar
It is also in Santa Catalina, I always go there. Just a cool little vintage rock bar with seatings outside. (Avda Argentina Num 5 Bjos)
Sa Sifoneria
This is the smallest little place in Palma full of Mallorquin siphones, nice to check it out and have a little glass of wine in the great atmosphere! This is not a place to hang out at night but to pass by during the day! (Carrer de Santa Clara, 4, Open from Tue-Sat, 10.30-14.00 – 17.00-21.00)
Bar Havanna 
This place is also in Santa Catalina, always a lot of people, great atmosphere, interior and nice drinks! There you will for sure make friends and have a fun night! (Carrer de Sant Magí, 2)
Honky Tonk
A cool place with lots of people, a bit alternative with cool interior. This is where a lot of locals hang out for drinks and fun at night. They also have great music! (Carrer Sant Llorenç 9)
WHERE TO GO AND SEE
Consell Market
Every sunday there is an amazing market in Consell where they sell almost everything from old books, lamps, glass bottles to clothes, also for good prices! You should go early in the morning because they close up around 2. They have a big bbq in the middle of the market and a cozy little stand where you can eat and drink.
Sóller 
You can either drive or take a train from Placa Espana. If you drive you have to drive through a tunnel which costs like 4 euros, or you drive the old way though the mountains but it takes very long. Or the train which is an old wooden train, it is really beautiful and cozy to take the train! When you arrive to Soller you can either hang there or continue down to Port de Soller, there is a port with boats, also a beach, lots of bars, restaurants and shops! If you take the train to Soller you can take another small little train down to the port.  Takes like 5 min!
Alaró
If you want to hike or go really far up in the mountain and eat sheep, they have the best up in the really old restaurant in Alaro! Its a great and nice experience, the place is really old and the same family have run it for years!
Cap de Formentor
One of the most beautiful places in Mallorca is Cap de Formentor, it is on the top of the island and it takes quite long to drive there, but it is definitely worth it! You are up in the mountain by the sea and the view is incredible!
Pollenca
If you anyways go to Formentor you can also pass by Pollenca… the beach is beautiful and it is nice to be around!
WHERE TO SHOP
Akaknits
This is a handmade cashmere brand created by a mother and a daughter, (actually one of my best friends). They have a beautiful and trendy shop located in Santa Catalina where you can shop or order your unique cashmere pieces. Apart from cashmere they also sell other local designer's pieces and their own hand-embroidered espadrilles, tote bags and other beautiful things! It is definitely worth a visit and a chat with the lovely ladies! <3 (Calle Sant Magi, 81a)
By C
Another swedish owned shop in the centre of Palma where you find a great selection of many scandinavian labels and some not scandinavian, like Tiger of Sweden, Dagmar, ATP and Anine bing. Mostly in black, white or grey! I especially like the jewellery! (C/ Union 8)
Seattle vintage store
Awesome vintage shop! You'll love it! The place is full of vintage clothing, American 70's and 80's-style denim,  leather and suede jackets, boots, converse, hats, jewellery, belts, bags… yeah everything! . (Carrer de Sant Elies, 4)
Suivi & Forum
These two shops are just beside each other and with the same owner. Suivi has a big "younger" labels while Forum more sophisticated. In Suivi you find American Vintage, Filippa K, Zadig & Voltaire, The Couples, Isabel Marant Etoile and much more. In Forum you find similar ones as in Suivi but more, such as Kenzo, Iro, Alexander Wang, Paul & Joe, etc etc. (Carrer de Sant Miquel, 20)
Paulas room
This is a cute little multibrand fashion store with brands like Anine Bing, Nanguisa, Samsoe Samsoe, lovestories intimates, etc. You'll definitely find something you love in there! (Carrer dels Paraires, 15)
Maos
They sell both girls and guys clothes, so if you don't want to only shop for yourself it is perfect for your boyfriend, brother, friend or dad! Or yourself of course! :) This is also a multibrand store with Dr.Denim, Adidas, Superga, Thinking Mu, Mr Boho, Les Deux Copenhagen and much more! (Carrer de can Brondo 5)