– Anzeige/ad – Brands mentioned and linked –
Hello loves and happy new year! Let's hope this year turns out better than the last one, but I have a good feeling! Today I thought of showing you some of the details in our kitchen which is basically done already, there's just some small things missing but they come along as we live there and notice what we need and so on.
You might already have seen when we built the kitchen, how we used microcement and painted stucco on the walls with chalk paint, if not you can click on the posts and see more about it. Now to the details!
Let's start with some quick information about the wall, we painted it with a technique called Stucco using chalk paint from Kalklitir, to apply the color you use a spatula and the result looks a bit like plaster which is more smooth but still with visible edges. We love this look in the kitchen! One of the most common question we get is how we keep it clean in the kitchen, well, we have covered the whole part below the wooden board with many layers of a protective sealer which is waterproof and super easy to clean! We also have a stainless steel metal sheet which we put up and put leaning towards the wall behind the stove when we do big cookings (just in case!) but never had any trouble with cleaning the wall.
The wooden board we built ourselves, we found old wood at an antique place/flea market a bit outside of Berlin and put together this shelf, kitchen table and bathroom table, read more about it here.
Now finally to the details! I love a bit of a mix when it comes to glasses, so we got different kinds that still go well together. From left to right we have: Mugs from Madam Stoltz, Handmade glasses made on Mallorca, glasses with grooves from Madam Stoltz and blueish glasses also from Mallorca which we mainly use as wine glasses. (Madam Stoltz has similar ones). As you can see I like Madam Stoltz, the eye is also from them!
Here we have our oil and spices selection aka memory corner <3 We have this standing next to the stove so we have easy access to salt and pepper etc. The tile underneath is a tile we had left from the star tiles in the bathroom, we had some extra, sealed them and use them as plates here and there in the apartment. We love flake salt and have it in this beautiful blue mug with white pattern that I got in Vietnam when I was there with my mum and sister some years ago. We bought it in a little shop where disabled people work, create things with their hands and earn money.
The two small glasses beside are the same as the wine glasses we use but in miniature, here we have pink salt and pepper. The oil decanter is also from Mallorca, typical Mallorquin, and a memory of my family and the beautiful island! The pepper mill was a birthday present, it's from Le Creuset and I absolutely love it.
The little basket with garlic is a miniature Vietnamese shoulder carrying pole that I got from my sister after she lived in Vietnam with her boyfriend for a year. I love to decorate at home with these personal and beautiful memories from around the world.
For the plates we fell in love with these earth plates from Nicolas Vahé, once we saw them we couldn't stop thinking about them. I love the grey colour and the matte finish. But what is even better is the size and shape of the plates. We got the big plates in 28cm diameter which are perfect size and flat (great for pizza, hehe), and the bowls are 23cm diameter and just PERFECT for salads, pasta, soups, almost anything. They are a mix of a bowl and a plate. I was a bit worried when getting these bowls since they are quite wide and wasn't sure if it was a good idea, but we're using these bowls almost everyday because they are so smart. For cereals or ice cream we just use a smaller bowl if we need one. But yeah, I'm definitely happy with these ones <3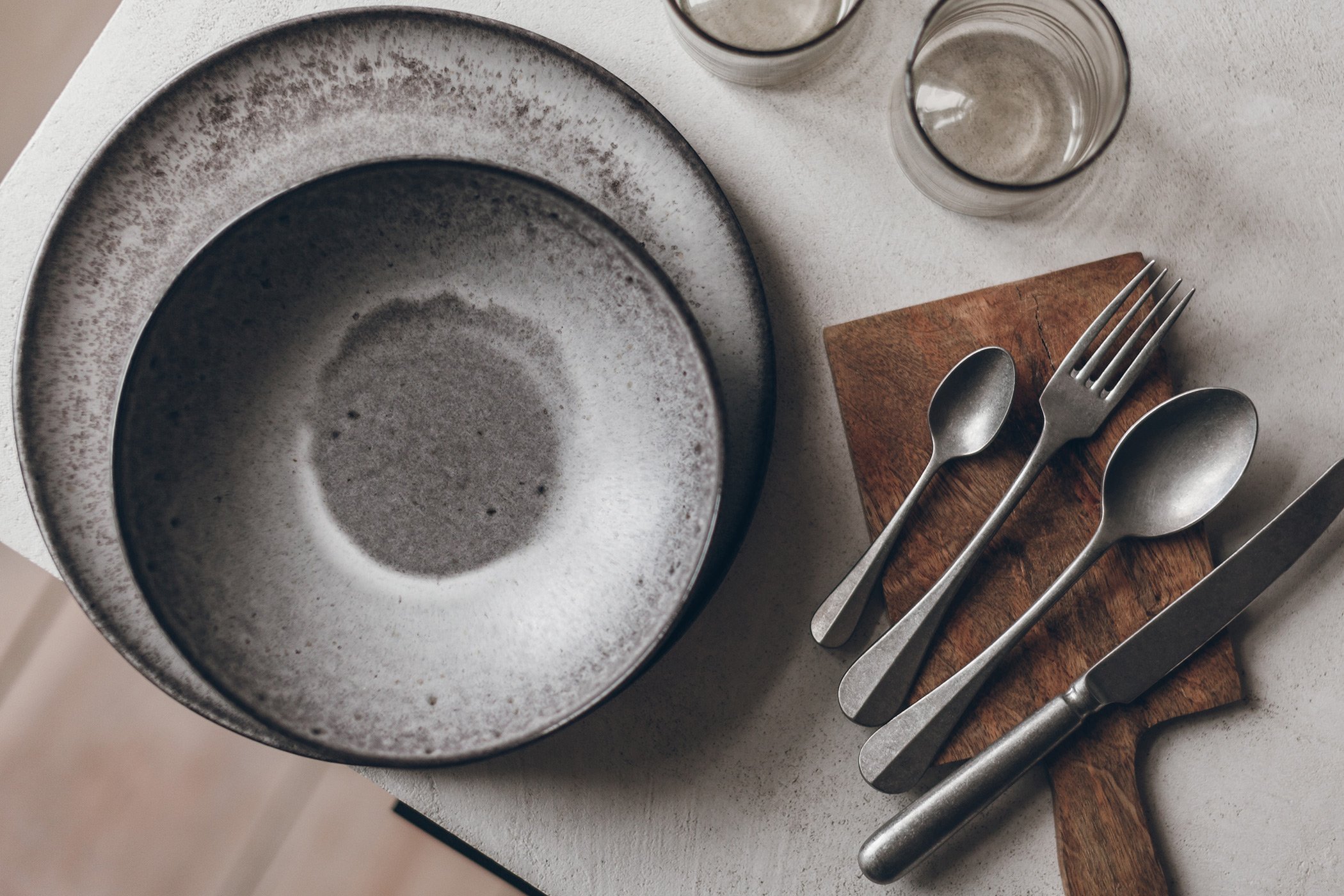 The cutlery is from Tine K and I LOVE them! They are in stainless steel, a matte finish and a timeless design, I love how they work so well together with the plates, wood and cement. They are also working very well for eating ;)
Now to our little coffee corner! Klemens and I have had the worst kettles, they always broke and we've had to boil the water on the stove which took forever etc etc, not to mention that we drink like 6 coffees per day…oops! Anyways, we didn't want to get a nicer kettle until we moved in and knew what we wanted to have, but now we finally got this little beauty! It's from Alessi, called Plissé and we're super happy with it.
The mug is from Marimekko and I got it for my birthday from my mum. I've been using the same coffee cup for 6 years from my first time in New York, a white one that says I <3 NY, it was perfect because it was so big! Now I wanted a new one after all these years (also a bit more stylish hehe)  but couldn't find a mug big enough. Not so easy to find actually! But then I got this from my mum as a gift because it fits 4dl, same as my NY mug. And funnily I had been eyeing this coffee container from Marimekko for some time, so I had to get it so it matched the mug. I love the dots and the black and white, a little pattern to Casa cozy!
For some extra light while cooking we put up these two clip on lamps from Granit, they are simple, small and practical since you can move them around however you want. On the board you see more plates and smaller bowls, the light small bowls are also from Nicolas Vahé, the black ones in small and big are from Bazar bizar in burnt terracotta and the wooden bowls are from Bali, a gift from Klemens' sister <3.
To wash our hands after washing dishes or just to clean our hands in general, we have this soap from Aeosop which has a little scrub inside. It's so good! It really cleans off the oiliness or dirt you feel after working in the kitchen thanks to the scrub, love it and totally recommend <3 
Last up we have our dessert plates from Nicolas Vahé called Nista. These are just simple black ceramic plates and we use them mostly for dessert or when we just have some sandwiches or cake. On the right we have some cutting boards from Madam Stoltz made of mango wood. We actually don't use these for cutting, more for serving. I accidentally used one for cutting one time and strongly regret it, the marks really show and I prefer to use them as plates or to serve food. For cutting we use another board which we bring out when it's time!
That was all for today! More details and deco posts will come soon from more places in the apartment!
Have a wonderful day! Lots of love xx Mikuta